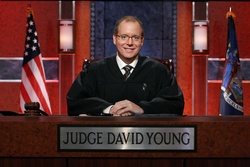 DNA testing, lie detector tests, and surprise witnesses present new show features that heighten the emotional stakes and offer even more dramatic elements for the delivery of Judge David Young's verdicts
CULVER CITY, Calif. (PRWEB) August 14, 2008
New features on the second season of JUDGE DAVID YOUNG include:
In a court show first, Michael L. Baird, Ph.D., the first DNA expert to ever testify in a U.S. Court case, will regularly provide his professional expertise, delivering DNA results directly to Judge Young live on the set via Internet video. Dr. Baird is best known for conducting the highly publicized paternity test on Anna Nicole Smith's daughter, Dannielynn in 2007, and for his work as the DNA expert in the OJ Simpson trial. For the first time ever on a daytime court show, lie detector tests will be introduced and submitted as evidence during the court proceedings. Judge Young will learn the results of the DNA and the lie detector tests simultaneously with the audience just before making his final ruling. Surprise witnesses provide additional electrifying moments to the season, introducing more than two sides to every story. Defendants and plaintiffs must contend with unexpected testimony creating added drama and oftentimes shocking results. The JUDGE DAVID YOUNG set has been redesigned with a special translucent door through which the mystery witnesses dramatically emerge to testify on a new witness stand. "DNA testing, lie detector tests, and surprise witnesses present new show features that heighten the emotional stakes and offer even more dramatic elements for the delivery of Judge David Young's verdicts," said Gerette Allegra, Vice President of Programming at Sony Pictures Television. "As we planned the creative future of JUDGE DAVID YOUNG, we knew that Rich Goldman was a great choice to bring our ideas to fruition and make the most of Judge Young's unrivaled talents and energetic personality," adds Allegra.
"David blends lightening-quick legal analysis with penetrating comments that get to the human drama behind every case," said Goldman, who has been a producer with Sony Pictures Television since 2000. "The combination of his personality and these groundbreaking new show elements will make for an exciting show that's completely unique to the court genre."
In addition to his work on JUDGE DAVID YOUNG, Goldman also serves as executive producer on Sony Pictures Television's JUDGE KAREN, premiering in daytime syndication on September 8, 2008.
Known for his fierce intelligence and joyful wit, Judge David Young has a well-earned reputation for being confrontational, caring and entertaining. He first captured national attention during a high-profile case in 2005, when he sent two America West pilots to jail for attempting to operate a commercial airliner while intoxicated.
JUDGE DAVID YOUNG is cleared in over 91% of the U.S., including 49 of the top 50 markets for the 2008-2009 season. The show is produced in New York City. For local airtimes or to find out how to have a case considered for JUDGE DAVID YOUNG, visit http://www.judgedavidyoung.com. For audience tickets call 866-AUDIENCE (866-283-4362).
MULTIMEDIA GALLERY http://www.businesswire.com/cgi-bin/mmg.cgi?eid=5755983