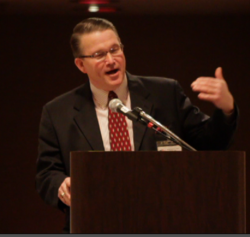 I hate to see the government take over something that a commercial industry already does well, and cost-effectively with no taxpayer money involved.
Denver, CO (PRWEB) April 24, 2012
Many legal professionals back government programs like pre-trial release as a substitute for private bail agents, but recently one former prosecutor and defense attorney declared his support for the bail industry. At the 2012 Professional Bail Agents of the United States (PBUS) Conference, the Honorable Judge John McBain spoke to attending agents about why he is an advocate of private bail, delivering some harsh criticism to legal entities that are not. During the conference, McBain sat down with AboutBail.com, a network of trusted bail agents, to discuss his views on pre-trial release, fugitive recovery and states that do not allow private bail.
"[The bail industry] gets no love," he proclaimed, "no real love from several critical stakeholders in the criminal justice system. Both the American Bar Association (ABA) and the National District of Attorneys and members of both professions have been vocal in their criticism of the bail bond business." McBain pointed out that defense attorneys dislike private bail as the cost of bail translates to less money for a attorney fees, and noted that for any criticism the American Bar Association makes about private bail fees, they put little to no focus on the handsome and sometimes outrageous amount of attorney fees. He also noted for the record that as a former prosecutor and criminal defense attorney he's worked both sides of the system.
McBain was quick to jump in with a declaration of support. "I want you to know that the National Judges Association is not one of your critics," he assured. "In fact, we overwhelmingly support and understand the critical role that commercial bond agents play in the administration of our justice system." Unsurprisingly, the statement garnered an overwhelming applause.
Later in his speech and as he sat down with AboutBail.com, McBain delved into industry issues to explain his support for private bail. With the trend of risk-assessment programs continuing to rise, so has the popularity of pre-trial release programs and personal recognizance (PR) bonds. "What a joke [personal recognizance] bonds are," McBain said with a shaking head, "the criminal defendant show up when they want, no one tries to enforce them when they default, the cops don't make meaningful efforts to pick up those individuals as a matter of high priority, and there are thousands of them pending in most jurisdictions."
McBain noted the importance of efficient fugitive recovery in the justice process, describing a defendant out on bail as having a string that can be pulled back by the bondsman if he or she jumps bail. "The few skips I get are usually reeled in by their bail agent very quickly," he said, noting that skips on PR bonds are usually at large for years, which can have a detrimental effect on a court case. "Criminal files are not like fine wines," the judge examines, "they don't get better with age. And the more quickly you can process a case, the better result you're going to get." McBain outlines the importance of fugitive recovery, saying that justice is not served when a defendant skips on a bond and is not immediately recovered. "Justice delayed is almost always justice denied," he said, "especially for crime victims."
Washington D.C., Illinois, Kentucky, Massachusetts, Maine, Nebraska, Oregon, Wisconsin and Philadelphia do not allow private bail agents to operate, requiring applicants to go through the court. "It's really interesting," McBain noted during his interview, "the states that have abolished commercial for profit bonding have some of the most backlogged dockets, and now for the first time you're even hearing prosecutors from Oregon, Wisconsin, Illinois and some of those states say, 'You know, I think we made a mistake." In closing, McBain concluded that he wouldn't be surprised to see many of those states change their position on private bail.
As a legal professional that has spent much of his career in the inner workings of the justice system, McBain assures that he has always been and will continue to be a strong supporter of private bail. In closing his interview with AboutBail.com, McBain said of government programs restricting and replacing bail bonds, "I hate to see the government take over something that a commercial industry already does well, and cost-effectively with no taxpayer money involved."
About AboutBail:
AboutBail.com, a subsidiary of Lawgical, is a nationwide directory of bail bond agents, criminal lawyers, investigators, immigration bondsmen and more. AboutBail.com's comprehensive database of bail agents, and legal professionals provides users with instant access to the help they need.
AboutBail.com was created by the same founders of the PInow.com, a worldwide directory of Private Investigators, and ServeNow.com a directory of Professional Process Servers.
Contact:
Kimberly Faber
AboutBail.com
2854 Larimer Street
Denver, CO 80205
(866) 411-2245