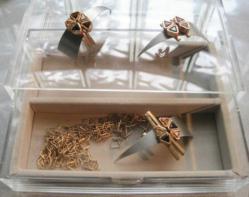 JuditB jewelry is for the customer who doesn't follow the pack and appreciates unusual but impeccably styled pieces that are clean and classic with a modern twist.
Los Angeles, California (PRWEB) February 14, 2013
International jeweler Judit Blumenfrucht, designer of the JuditB jewelry line (http://www.juditb.com), in association with The Artisan Group, will showcase on display her "Fall Flower" set at GBK's Luxury Gift Lounge in Honor of the 2013 Academy Awards. A selection of JuditB signature pieces will also be included in celebrity swag bags. The Lounge takes place February 22-23, 2013 in Beverly Hills, California.
The "Fall Flower" set is composed of a rose gold tone double ring, double pendant and earrings. Each piece is accented with champagne and garnet Zircon Gems. All are displayed in a specially selected minimalist-modern display box. "Fall Flower" is modular in concept; the two rings and/or the two pendants sit together to create a flower but the components can also be worn separately. Judit decided to showcase this eye-catching design at the Academy Awards in part because it pays perfect homage to the Art Deco origins of the Oscar statuette.
Watch a JuditB video.
"Fall Flower is a new take on a set I launched in London at The Jewellery Show for the Royal Jubilee," noted Judit. "The overall design is Art Deco inspired. The original set was inspired by the Chelsea Flower Show and featured red, white and blue Zircons. I've glammed it up for Hollywood with rose gold tone and champagne and garnet colored gems, while keeping the flower inspired theme."
Judit is recognized for her handcrafted, architectural jewelry designs, which feature sharp angles and geometric shapes. "Fall Flowers" is true to form and the modular aspect reflects the jeweler's innovative spirit.
"I have been told I have a square peg in a round hole attitude and I tend to agree. It's that attitude – and the desire to create distinctive designs – that led to my signature square rings," remarked Judit. "JuditB jewelry is for the customer who doesn't follow the pack and appreciates unusual but impeccably styled pieces that are clean and classic with a modern twist."
Judit, who was named a rising star by Retail Jeweller Magazine and selected as Exhibitor of the Week at London's Top Drawer 2010, most recently participated in London's prestigious The Jewellery Show at Somerset House. She is a member of the British Jeweller's Association and the Israel Jewelry Manufacturers' Association.
The popular JuditB square stacking ring was worn by Lovely Hoffman in country singer Doreen Taylor's video, "Last Call for Alcohol" and Doreen Taylor herself showcased JuditB's Blue Topaz and Zircon Ring in her new music video, "Judgment Day," which premiered at the Mint LA last October. JuditB designs are also being considered for use on the Lifetime Network's "The Client List."
JuditB jewelry has been included in celebrity swag bags at the Primetime Emmys, the Golden Globes and the MTV Movie Awards, where it has landed in the hands of Jennifer Love Hewitt, Mayim Bialik, Jeremy Irons and many others. Both Janina Gavankar ("True Blood") and the late Kathryn Joosten ("Desperate Housewives") have been photographed wearing JuditB's Marquise Zircon Rings and JuditB designs have been gifted to Drew Barrymore and Paula Abdul.
To learn more about JuditB or its participation in The Artisan Group's celebrity gifting initiatives, contact Judit Blumenfrucht by phone or email. Shop for JuditB jewelry at juditb.com; vialicentia.com; JuditBJewelry.etsy.com; and Facebook.com/JuditBJewelry. Follow JuditB on Twitter at @juditbjewelry.
About Judit B
Judit Blumenfrucht (JuditB) started out as a translator but soon moved on to expressing her love for beautiful things into an innovative career in jewelry design. Her multi-lingual background has exposed her to a wide range of interesting cultures and unique people, and the experiences have helped shaped her vision for the JuditB brand (http://www.juditb.com). Understanding that each person in the world has their own individual style, Judit works with her clients to create one-of-a-kind pieces that reflect their personality just as much as hers. The result is truly one-of-a-kind pieces of wearable art—pieces that always make a statement.
About The Artisan Group
The Artisan Group (http://www.theartisangroup.org) is an elite art promotions group representing talented small-business artisans at the best celebrity gift lounges and also offers its members guidance in the areas of sales, marketing, social media and public relations.
The Artisan Group is in no way associated with MTV, The Academy of Motion Picture Arts and Sciences, The Hollywood Foreign Press Association or The Academy of Television Arts and Sciences.