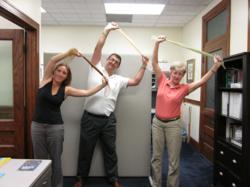 Simple changes like standing during phone calls or stretching at your desk are great ways to burn extra calories during the workday
Heather Wolf, JuggleFit LLC
Pensacola, FL (PRWEB) September 13, 2011
With the recent economic slowdown, many companies have been forced to cut back on employee fitness and wellness programs. JuggleFit LLC is now offering an affordable alternative to ongoing corporate wellness programs with its on-site office fitness workshops. ACE-Certified Trainer and JuggleFit Founder, Heather Wolf says, "There's an increasing trend where health and wellness professionals are offering informative sessions that help employees fit healthy habits into a busy schedule. It's a great way to reward and take care of employees without having to spend a bundle on a full-fledged corporate wellness program."
Cynthia Tant, Broker/Owner at Gulf Coast Home Experts, LLC, in Pensacola, FL, comments, "As with any job, things can get hectic and it's important to find ways to stay mentally and physically sharp throughout the workday," she says, "especially when sitting at a desk handling important paperwork." After bringing JuggleFit in for a workshop, Cynthia says the light exercise throughout the workday has helped keep her agents focused, energized, and able to deliver excellent service to clients.
JuggleFit's workshops include exercises that provide light office-appropriate cardio, work the core, and stretch muscles that tend to tighten up while sitting at a desk for long periods of time. "Even simple changes like standing during phone calls or stretching at your desk are great ways to energize and burn a few extra calories during the day," says Wolf, who invented an office fitness accessory called Cardio in a Box, a small box containing scarves that can be used for stretches, resistance moves and cardio exercise during the day. Cynthia couldn't resist purchasing some of the products to place around the office for her Gulf Coast Home Experts, she says "It's added quite a bit of character to our office; agents are able to do exercises and stretches whenever they need an energy boost. I see many of them using Cardio in a Box around 2 or 3 to fight that afternoon slump."
About Gulf Coast Home Experts, LLC
Gulf Coast Home Experts, LLC is a real estate brokerage located in Pensacola, FL. The GC Home Experts represent a group of qualified professionals ready to serve your real estate needs specifically in the REO, short sale, and investor market. As a Certified Distressed Property Expert and Certified Investor Specialist, Dr. Tant, Broker/Owner of GCHE has assisted hundreds of families with their real estate issues. http://saveyourpensacolahome.com
About JuggleFit LLC
JuggleFit LLC is based in Pensacola, FL and offers products and on-site workshops to help people fit brain-body exercise and healthy eating into a busy schedule. The company has produced the popular Juggle Your Way to Fitness DVDs, which teach juggling in a simple way and provide portable workouts for brain and body fitness. JuggleFit is also the creator of the healthy 3-ingredient Shake a Snack app for iPhone and iPod touch. For more information about JuggleFit, visit http://jugglefit.com.
JuggleFit founder and ACE-certified trainer Heather Wolf is available for interviews and on-air demonstrations of office fitness. To book Heather contact JuggleFit LLC at (850) 932-5570, info(at)jugglefit(dot)com, or visit http://media.jugglefit.com.
# # #