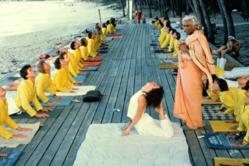 An excellent program. Highly recommended to all those wishing to cleanse and purify their bodies and mind.
Nassau, Bahamas (PRWEB) April 15, 2013
The program is an ideal opportunity to deeply cleanse and rejuvenate body and mind in a safe and supportive environment.The program will take place from April 21 - 30, 2013 in the world renowned Yoga retreat in Nassau, Bahamas.
Juice fasting is the fastest and safest way to eliminate toxins from the body. The program is designed to create a transformation not only on the physical level, but also on the mental, emotional, and spiritual levels. Herbal supplements, Yoga, and meditation will aid in this transformation. With the practice of both Yoga and fasting you will achieve a higher degree of physical, mental, and spiritual awareness as toxins are eliminated.
The program begins gradually with a few days of raw food followed by fruit and vegetable juice fasting, and ends with a raw food diet for the last days of the program. The process is supported by detoxifying herbs and supplements. You will also enjoy special Yoga classes and lectures on nutrition.
Colonics can be arranged through reception during this program. Nutritional consultations are also available.
Benefits of this program include:
All organ systems of the body become cleansed
Relieve congestion in the body & improve eliminative functions
Balance digestion
Increase absorption of nutrients
Aid in weight reduction
Relieve tiredness and re-energize the body and mind
Reduce skin problems and ease pain and inflammation
This course is open to all. However if you have a severe chronic condition or are on medication, please consult your doctor before registering for the program.
Located across the bay from Nassau, on one of the finest beaches in the world, the Sivananda Ashram Yoga Retreat is an island paradise with a tropical garden, crystal clear water and pure white sands - a true sanctuary of peace and natural beauty. Recognized among world Yoga Retreats, the ashram offers year-round programs presented by world renowned speakers, as well as certification courses on various yoga related topics through which you can expand your knowledge, gain a new skill and get certified while enjoying a joyous yoga practice and blissful relaxation. The retreat center also offers year-round Yoga teacher training programs and Ayurveda programs.
For more information, please call 1-866-446-5934 or visit sivanandabahamas.org.