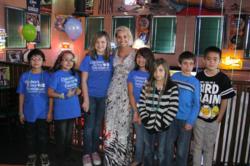 Tora has fans around the world and we are so grateful that she and her team selected us as the pay per view producers and providers.
Tucson, Arizona (PRWEB) February 05, 2012
With her recent X Factor appearance behind her, Tora Woloshin will once again step into the global spotlight when her CD release show is streamed live via web pay per view. JukeBox Records, Tora's label, announced they are partnering with Onlineeventz.com to film and stream the February 18th show at Tucson's DV8 Nightclub.
In a statement by Matt Williams from Onlineeventz, "Onlineeventz.com is thrilled to be part of this upcoming magical night with the release of Tora's debut LP, "Open Heart Surgery". Our company recognizes the fact that Tora will be the next big star to hit the music scene. Tora has fans around the world and we are so grateful that she and her team selected us as the pay per view producers and providers. We are elated that Tora is giving back to such a great cause and has kept ticket prices for her live show and pay per view well below what she could be asking. She really is paying it forward and giving back to a wonderful cause-The Children's Tumor Foundation."
Most of the proceeds from ticket sales to the live event, as well as a portion of the PPV orders, benefit children afflicted with Neurofibromatosis (NF), also known as von Recklinghausen disease, a genetic disorder in which the nerve tissue grows tumors that can cause serious damage by compressing nerves and other tissues. The tumors may cause bumps under the skin, colored spots, skeletal problems, pressure on spinal nerve roots, and other neurological problems.
Organizers of the event will capture celebrities and fans on the red carpet outside the venue beginning at 8:00PM. Live web streaming will continue through the end of the show. According to EP Huckabee, President of JukeBox Records, they are bringing out the glitz, glam and throwing down the red carpet to showcase the event to the world. "Tora recently returned from promising meetings in Miami and Hollywood with major producers in the recording and television industry. We were told some of their people are flying out to see the show in Tucson and we want to make a good impression. We have a cast of 30 people, including dancers, 2 local bands and a duo from California, who have been working their booties off to bring Tucson a night they will never forget."
Tickets for the live show at DV8 Nightclub are $10 and can be purchased on line from Showclix or at the door. Fans can pre-order the pay per view event, which is $12, at Onlineeventz.com. More information about Tora and the event can be found at http://facebook.com/torawoloshin.
About JukeBox Records
JukeBox Records is a family owned enterprise born in 1999 to support and develop Tucson's independent music artists.
###