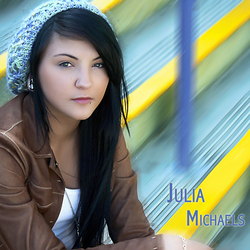 Wow, she's the real deal.
Los Angeles, CA (Vocus) July 20, 2010
LA-based pop rocker Julia Michaels has announced the release of her debut self-titled EP, available everywhere on July 20th, 2010. The EP is being distributed by BFM Digital, a leading digital music aggregator and distributor of independent music.
At only sixteen years old, Julia Michaels gained particular attention when her single, Born To Party (released on June 17th), was featured on MTV's hit TV show The Hills, exposing her music to a wide audience that responded immediately. The single, with it's fun, steady dance beat, became a quick success among the viewers and created demand for more music.
The new EP, produced by Anthony Anderson and Steve Smith of SA TrackWorks Productions and Joleen Belle and out on the SA Trackworks Label, incorporates upbeat songs like Born To Party while also giving the listener a taste of Julia's softer song-writing side. Each of the four tracks exudes passion and boast soulful lyrics often missing from such youthful releases. Lead track, Bailey, is a heart-wrenching coming of age ballad that showcases Julia's strong vocals laced over melodic piano and strings. The EP wraps up with the punchy, sing-along track, Next To You, sure to be a favorite among listeners.
Julia, a natural-born performer, started singing at age twelve, harmonizing and writing her own songs from the start. She later formed a four-piece rock band, performing in various venues and writing new original music before launching her solo career. Julia cites her main influences as Fiona Apple, Lisa Mitchell, Laura Marling, Missy Higgins, Paramore, Juliet Simms, Sarah Blasko, and The Fray.
"Wow, she's the real deal." - Suzan Koc, BMG Music Publishing
"Whatever "it" is, she has more of "it" than most singers I've ever heard." - Ken Lewis, Grammy Award-winning mix engineer and producer
Track Listing:
1. Bailey
2. Closet
3. Down
4. Next To You
To preview the album, please click here.
For more information, visit: Julia Michaels Music
For a review copy of the album, please contact: Heather Noonan at pr@bfmdigital.com or 818-762-0191
About BFM Digital, Inc.
BFM Digital is a global digital music company committed to serving the independent music community and delivering quality music, spoken word and video content to leading online retailers worldwide. Representing a diverse catalog of indie labels, artists and publishers, BFM distributes to all of the major music services including iTunes, Amazon, Rhapsody, eMusic, Napster, Walmart, Nokia and many more. With an unparalleled commitment to personalized service, BFM works closely with their content providers from around the world to ensure maximum exposure of their catalog by customizing marketing efforts and building strong relationships with BFM's digital store partners.
Press Contact:
Heather Noonan
BFM Digital, Inc.
Email: pr(at)bfmdigital(dot)com
###