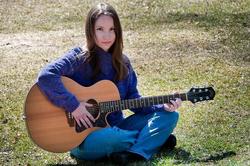 This song is inspired by the bravery of our troops, the love between a mother and her son, the emotions family experiences when someone close to them goes to war, and the important role military family members and troops play in giving each other strength
Chicago, IL (PRWEB) November 10, 2010
Singer/songwriter Julie Kaylin has released a riveting new song to help support troops and their families. All profits from downloads of Kaylin's powerful tune, "Don't Worry 'Bout Me Mama", will be donated to Soldiers' Angels. The "Don't Worry 'Bout Me Mama" mp3 can be streamed and downloaded at JulieKaylin.com/store.htm.
"This song is inspired by the bravery of our troops, the love between a mother and her son, the emotions family experiences when someone close to them goes to war, and the important role military family members and troops play in giving each other strength," Kaylin said.
"As the lyrics of 'Don't Worry 'Bout Me Mama' closely parallel the 'May no soldier go unloved' motto of Soldiers' Angels," Kaylin continued, "I feel that donating to the Soldiers' Angels is a great way for my music to help support the men and women who serve our country and honor their valor, as well as their family members' courage."
Soldiers' Angels is a volunteer-led nonprofit whose mission is to provide aid and comfort to the men and women of the United States Army, Marines, Navy, Air Force, Coast Guard, veterans, and their families. With over 200,000 volunteers, Soldiers' Angels is one of the country's largest military support nonprofit organizations.
Blending country and soft rock rhythms, heartfelt lyrics, and polished vocals, Julie Kaylin's singing and songwriting skills have garnered awards and praise from industry veterans. "Julie has worked tirelessly on this new single and her ability for the craft truly shows with this release," said Scott Winterroth, editor of CountryMusicChicago.com, an independent country music resource. "She truly has captured an emotional, heartfelt situation in a song, which is something that I believe will resonate with fellow country music fans."
Julie Kaylin lives in the Chicago area and has performed throughout the Midwest, including at venues such as Six Flags Great America and Standard Bank Stadium. Her debut full length album is scheduled for release in the summer of 2011. More information about Julie Kaylin can be found at JulieKaylin.com.
###