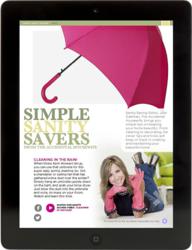 This month's tip will give your umbrella a whole new purpose. You'll have to check out my article to see what it is.
Manchester, NH (PRWEB) April 03, 2013
Carpet One Floor & Home welcomes Julie Edelman, The Accidental Housewife, to the editorial team of their digital magazine – Beautiful Design Made Simple. The magazine was launched in January as a free quarterly publication to inspire and inform the ever evolving design of a home. The spring issue was just released and features a new section from The Accidental Housewife titled Simple Sanity Savers.
As The Accidental Housewife, Edelman has been sharing tip and tricks she's learned along the way that help save time, money, and most of all, sanity. She is a frequent guest on the Today Show and Rachael Ray where her energy, real life tips, and humor make even the most mundane chores seem fun and practically mindless. She is also a best-selling author.
"I'm excited to be contributing to this beautiful and informative publication Carpet One Floor & Home's has created," said Edelman "This month's sanity saving tip will give your umbrella a whole new purpose which even Mary Poppins would appreciate! You'll have to check out my article to see what it is."
The spring issue of Beautiful Design Made Simple is focused on spring inspiration and natural home design. Articles and features include: designs and home décor inspired by spring colors; earth-friendly ideas for home projects; inspiring window treatments; advice from decorator Tracy Bross on designing with natural products; tips from designer Steve Suraci on Green renovations; the attributes of wool; and more.
"We are always looking for new ways that we can bring our customers design help, inspiration and home tips," said Terri Daniels, Vice President of Public Relations for Carpet One Floor & Home. "Julie adds a new dimension to our publication with her entertaining personality and creative home tips. We look forward to working with her in future issues."
The Beautiful Design Made Simple newsstand and issues are free to download on the iPad app store and can be accessed by visiting BeautifulDesignMadeSimple.com
About Carpet One Floor & Home
Carpet One Floor & Home (http://www.CarpetOne.com) is North America's leading floor covering retailer, with more than 1,000 independently owned and operated locations in the United States, Canada, Australia, and New Zealand. Carpet One Floor & Home stores are known for a broad selection of carpet, wood, laminate, ceramic, vinyl, and area rugs, including exclusive brands like Bigelow and Lees. They offer a unique customer experience with the exclusive SelectAFloor merchandising system that simplifies the shopping experience and The Beautiful GuaranteeTM, which guarantees that the customer will be 100% happy with their floor.
About Julie Edelman
Julie Edelman is a well-known multi-media lifestyle personality who shares easy; real life time, money, and energy saving tips that maintain our home, family and manicure. And, though her solutions cause Martha, Heloise and the handyman to cringe, she brings a sense of calm, humor and camaraderie to millions like her who live on what she lovingly calls Hysteria Lane. Julie appears regularly on the Today Show with Kathie Lee 'n Hoda, Rachael Ray, Better TV and The Doctors. She is a New York Times best-selling author of The Accidental Housewife: How to Overcome Housekeeping Hysteria One Task at a Time and The Ultimate Accidental Housewife"–Your Guide to a Clean Enough House -a 'must have' home-keeping compendium. Julie contributes a weekly blog on RachaelRay.com; is the National Home-keeping Editor for Examiner.com; has a webisode series for Fox News Magazine and 'spreads the glove' on her site, http://www.juliestips.com.