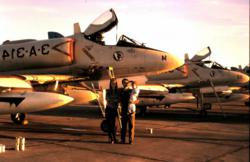 Netherlands citizen Julio Poch should have been exculpated of any wrongdoing in two weeks. Poch's ongoing detention of three years has violated six human rights.
Washington, DC (PRWEB) October 04, 2012
Dirk Lokhorst, President of the FJJP: "To this day, no single piece of incriminating evidence against Skyhawk Fighter pilot Julio Poch has been presented to his defense lawyers, in spite of 4 years of searching for evidence by the Argentinian Justice."
Thursday, September 27th, the FJJP launched a Petition, which list of petitioners will be presented to various bodies within the Dutch and Argentine Governments. The petition simply asks that Human Rights are respected. The FJJP invites all concerned to sign the petition.
Lokhorst: "We hope that this petition will increase the pressure on especially our Dutch government to actively ascertain that Poch's trial will be fair, and that he will not be turned into an innocent scapegoat. We are excited to report that yesterday the Vereniging van Nederlandse Verkeersvliegers (VNV, https://www.vnv-dalpa.nl/ ), the world's oldest Airline Pilot Union, has formally joined us in our fight. On October 1st, Evert van Zwol, president of the VNV, submitted a letter to Netherlands Minister of Foreign Affairs Rosenthal, and Netherlands Minister of Security and Justice Opstelten, urging them to actively guard the human rights of Julio."
In the 1980's, Julio Poch left his position at Aerolineas Argentinas, to join the KLM Group as a pilot. He was offered an outstanding opportunity: Not only for his career, but also for his family. Life in hyper-inflation South America was not good back then. Poch was a retired military Navy pilot, with several years of experience on the A4 Skyhawk fighter jet. He served during the so-called "Dirty War," when the military junta of Videla was facing off military militias. Behind the scenes, these years were characterized by the Cold War: Russia and Cuba supported the militias, and the CIA supported the military junta.
Lokhorst: "The Dirty War forms a stain on the Argentinean conscience. Many victims are still not accounted for. Unspeakable atrocities were committed by both sides in the conflict. On June 15, 2005, the Argentinian Supreme Court struck down the decades long Amnesty Laws protecting government officials, military, and police (http://www.hrw.org/news/2005/06/14/argentina-amnesty-laws-struck-down ). This, obviously, was very good news. However, since then, the prisons of Buenos Aires have been filling up with suspects of human rights violations in a most disconcerting way. Julio's case is not the only case which raises human rights concerns (http://www.hrw.org/world-report-2012/argentina )."
In that greater context, airline captain Julio Poch was arrested 22 September 2009. Julio Poch's Dutch lawyer Mr G.J. Knoops (http://www.knoops.info/nl/ ): "The cause for his arrest was a 2003 dinner conversation with several pilot colleagues. During that 10 minute conversation, suspicion arose among a few colleagues that he was involved in so-called Death Flights, in which the Junta dropped opponents to the regime into the Atlantic Ocean. The suspicion reached Argentina, via initial Netherlands justice involvement."
Poch was arrested: Not in The Netherlands, but in Spain. The arrest took place during his very last operational flight within the Air France/KLM Group, following which Poch would have entered retirement. A carefully prepared operation brought police officers on board and into the cockpit during the airliner's turn around at Valencia Airport (http://news.bbc.co.uk/2/hi/americas/8271341.stm ). According to the FJJP, Poch was never interviewed or heard by Dutch legal authorities and – at the time of his arrest in Spain - was not aware of any imminent threat, and initially mistook his arrest in Valencia as a retirement flight hoax. Unfortunately, his initial laughter soon left him, quickly and long lasting.
Dutch defence lawyer of Julio Poch, Mr G.J. Knoops: "If tried in The Netherlands, Poch would have been exculpated of any wrongdoing in two weeks. Poch's ongoing detention has violated six human rights: Violation of the Principle of Judicial independency; Violation of the presumption of innocence; Lack of Prima Facie Case; Reversal of the Burden of Proof; Violation of the right to a speedy trial and of the right to Liberty and Security; Erroneous Application of the Concept of Collective Criminal Responsibility. We filed these violations already on 6 October 2011 last year, with the Inter-American Commission on Human Rights (IACHR) in Wahington, DC (case number P-1815-10). We are now one year later and are still waiting to see the Netherlands and Argentinean governments take appropriate action."
To sign the petition, please visit:
http://www.petities24.com/tegen_schending_mensenrechten_julio_poch
For more background information, please visit:
https://www.facebook.com/FJJP.JulioPoch
http://juliopoch.org/
For more background information, please visit:
https://www.facebook.com/FJJP.JulioPoch
http://juliopoch.org/