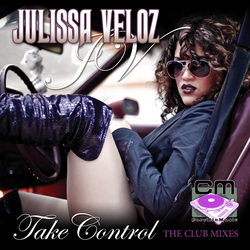 Los Angeles, CA (PRWEB) February 9, 2010
The former American Idol contestant, Julissa Veloz, grows up and puts out her first commercial release "Take Control" on Carrillo Music.
Julissa Veloz became widely known as an American Idol contestant on Season 8. Her "Tiara Girl" persona was adored by then judge, Paula Abdul. Julissa gained fame by asking Paula Abdul to return for her audition after Abdul stormed out of the room, being upset with fellow Idol judges, Simon Cowell and Randy Jackson. Unfortunately, Veloz was dismissed from Idol after getting sick and losing her voice.
"I had a great time with American Idol. That experience taught me so much and I will be eternally grateful to everyone at Idol," stated Veloz.
"Take Control" is about a "man having enough confidence to take control of a situation with a woman," says Veloz.
"Take Control" is produced by international dance music producer Rod Carrillo, who has crafted productions for Snoop Dogg, Kaci Battaglia, Rihanna, Joanna Krupa and legends: Donna Summer, Martha Wash and Crystal Waters.
Julissa Veloz's new single is remixed by Albert Castillo (Christina Aguilera, Hilary Duff, Musiq Soulchild), Sted-E & Hybrid Heights (Akon, Sylvia Tosun, Armand Van Helden), Peter Brown (Ronnie Sumrall, Enur), Slick Vic (Fans of Jimmy Century), Shefali (Bonita Applebum), Noise Mac (Panama) and dubstep pioneers HavocNdeeD.
"I am very proud of the remixes and video for Take Control. I did not want to be bashed for just doing another club video. I wanted to make a video with a story. Leading up to the video shoot, I had dreams that Perez Hilton blogged about my video. So I did not want to disappoint," stated Julissa.
Veloz worked with fashion extraordinaire Angela Johnson on the single's sizzling video. Johnson has dressed such Hollywood elite as Tommy Lee, Leonardo DiCaprio, and Kevin Connolly.
"Take Control" is available on iTunes, Amazon and all major online retailers for purchase.
ABOUT JULISSA VELOZ
Julissa Veloz has been an American Idol Contestant, a multiple music and drama scholarships winner, a recording artist, a television actress, a dance music diva and an R&B Latin dance hit maker! Born in Newark, New Jersey, daughter of Dominican parents, Julissa began taking voice lessons at the age of only ten years old from distinguished opera singer and Julliard alumni Nadine Herman.
A vocal performance by Julissa caught the attention of celebrated pianist Dalton Baldwin and soon Julissa was recommended to attend Julliard pre-college. Julissa also auditioned against over 500 hopefuls to win the first ever vocal scholarship to one of the most exclusive institutions in New Jersey, NJPAC. While studying musical theatre at NJPAC, Julissa discovered a love of R&B and in 2003, she released her first R&B Latin dance hit, Feel the Music. This same year, Julissa released her first love song entitled, Far from Me. She continued her vocal training while promoting her demo and soon began working with Anwar Robinson, a finalist on American Idol's second season and she too soon was one of the finalists on American Idol's eighth season! She also appeared on "Pipers Pics" and "The Fat Tom Show". Julissa was also selected by Lil' Wayne as a contestant on his reality show Making the Next Hit in 2008. Currently signed to Carrillo Music, Julissa is releasing "Take Control" and "Psycho" which are sure to showcase the talents of Julissa Veloz on an international level.
For more information on Julissa Veloz please visit: http://www.julissavelozonline.com or http://www.myspace.com/julissavelozmusic
###