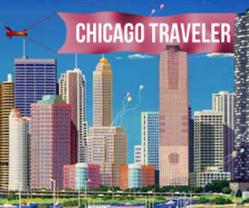 Chicago, Illinois (PRWEB) June 21, 2013
There are tons of things to do in Chicago this summer, and the majority of the best events, festivals and activities take place in July. From the 4th of July celebrations to the Taste of Chicago and the warm weather that brings travelers to the Windy City this month every year, there's no shortage of fun to be had. ChicagoTraveler.com announces all the best things to do in Chicago this July.
4th of July Chicago Events
Hot dogs, fireworks, music and more. No one does 4th of July better than Chicago! These Chicago staples are popular all summer long, but the Windy City goes all out on this American holiday and does 4th of July bigger than some of the best places in the country. Check out the Navy Pier fireworks (many of the best cruises offer the most spectacular view of the show) or head to one of the parks for a festival. The White Sox will be playing the Orioles and as always, the hot dogs will be sizzling on the grill and completely delicious.
Taste of Chicago 2013
Forget the architecture and history, Chicago's biggest claim to fame may very well be the annual Taste of Chicago. There are so many notable restaurants throughout the city that it's hard to try them all. That's not the case during Taste of Chicago though! Sample the city's finest fares from hot dogs and burgers to innovative creations that you never imagined possible. Bring the kids and enjoy all the free live entertainment in Grant Park for 5 days, including music from headliners like Grammy Award winning band, fun. From July 10-14, 2013, Grant Park will be infested with food, and the foodies who can't get enough of it.
Boat Tours in Chicago
When it starts to get hot out, there's no better way to cool down than a trip to one of the Chicago beaches, or a fun ride on the Chicago River or Lake Michigan. Chicago cruises come in all shapes, themes and prices, so there's always a fun ride for everyone. Check out one of the Chicago water taxis for a quick and scenic ride that won't blow the budget. Shoreline Sightseeing offers a fantastic cruises on Lake Michigan that make summer afternoons completely unforgettable. Seadog Cruises are fast and fun, and the entertaining guides have every passenger raving about their experience. For a fun or romantic dinner cruise this summer, check out the newly renovated and completely fabulous Odyssey Cruises. More of a land lover? Those tours are fun too, so check out all the walking, biking, Segway and food tours in Chicago on a summer vacation.
Must-See Summer Attractions
Some of the hottest Chicago attractions are more popular than ever when the temperatures are highest. Head to Millennium Park for a day of fun in the sun and check out the famous Cloud gate (aka the Chicago Bean) or cool down in Crown Fountain. There are movies and concerts in Millennium Park throughout the summer, so check out that schedule for a night of fun. Spend an afternoon at Navy Pier enjoying the rides, views, restaurants and more. Check out all the latest fashions on Magnificent Mile, all the summer shows in the Theatre District and all of the new restaurants opening all over town throughout the summer. When it gets too hot out, head into one of the famous Chicago museums for a fun and exciting afternoon.
Chicago July Events
4th of July Fireworks - Navy Pier, starting at 9:30pm
July 5-7 - Wavefront Music Festival - 3 Day Festival at Chicago Montrose Beach
July 6 - Young Jeezy live at Arie Crown Theatre
July 7 - Counting Crows and The Wallflowers live at Charter One Pavilion
July 9 - Barenaked Ladies, Ben Folds Five & Guster live in concert at Charter One Pavilion
July 10-14 - Taste of Chicago 2013 in Grant Park
July 17 - Beyonce at United Center
July 19-21 - Phish's 3-day concert at Charter One Pavilion
July 27 - Sept. 15 - Chicago SummerDance Festival - Free dance classes in Spirit of Music Garden in Grant Park every Thursday-Sunday
July 31 - Midwest Film Festival shows the best films in the Midwest, occurring the first Tuesday of each month
Find tickets to Chicago concerts to these shows and more. More of a theatre lover? ChicagoTraveler.com has a Chicago theatre events schedule with tickets, dates and the inside scoop on every show this summer. The entertainment never ends this summer in the Windy City.
About ChicagoTraveler.com:
Chicago is one of the top vacation destinations in America famous for their annual events, popular foods, architecture and top sports teams. ChicagoTraveler.com guides travelers to all the best things to do, top places to eat and deals on the best places to stay in Chicago. Lizz Riggs, editor of ChicagoTraveler.com, can help travelers find all the best things to do, places to stay and deals to take advantage of on their next trip.