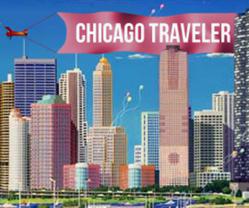 Chicago, Illinois (PRWEB) June 11, 2013
4th of July is one of the most popular times to travel! Celebrate America's birthday in Chicago this year with all of the patriotic events, beautiful weather and opportunities for sightseeing. The city has so much going on before, during and after Independence Day, so spend a few days enjoying it all. Best known for the fireworks display over Lake Michigan, Chicago also has tons of annual events that draw visitors into the Windy City and keep its residents home for the holiday as well. ChicagoTraveler.com announces some fun and patriotic events for this year's Fourth of July in Chicago.
Fireworks in Chicago
Fireworks are recurring summertime events at Chicago's Navy Pier. Watch their famous patriotic themed show on Independence Day. Watch from Navy Pier, or book a cruise on Lake Michigan for the evening. Odyssey Cruises and Spirit Cruises offer fireworks cruise with dinner, dancing and live entertainment on board. These amazing ships are always a top option for a good time, day or night, and the fireworks show on 4th of July is extra special! Seadog Cruises offers an open air fireworks cruise that's easily the best way to see the display, and it's fun for the whole family. Shoreline Sightseeing has several great options to check out the 4th of July fireworks on the water's of Chicago!
Music in the City
On July 4th ICE, a contemporary classical music ensemble, and Nosaj Thing, an electronic musician, will be in the performing in Millennium Park at 6:30pm for the Loops and Variations Music Festival. Blue Man Group is always in town, and families can catch their exciting theatrical performance at 5:00pm on July 4th at Briar Street Theatre. The night before, The Shedd Aquarium will be hosting their weekly Jazzin' at the Shedd, perfect for travelers in town for the weekend. July 3rd is Rio Bamba night, but attending this show also includes beautiful skyline views, cocktails and a view of the Navy Pier fireworks that will start at 9:30 that night.
Go See a Game
What better way to celebrate this country than enjoying America's favorite pastime? There are two chances to watch the White Sox take on the Baltimore Orioles at U.S. Cellular Field on 4th of July weekend. If you already have plans for the afternoon of Independence Day, see them the night before (July 3rd). Cheer on Chicago's team All-American style with a couple of beers and hot dogs.
Chicago Festivals
The African Caribbean International Festival of Life is a great celebration for the whole family. Washington Park is filled with reggae and other world music, various performers, and vendors of all sorts from July 4-7, 2013. The annual Windy City Ribfest will also be here from Jule 5-7, 2013. Check out this festival of great food, family fun and a local gospel concert. It starts July 5th and goes on through the weekend, so this is perfect if you're staying a little past Fourth of July or if you live in town!
Chicago Hotels for July 4, 2013
ChicagoTraveler.com recently named the top hotels for a 4th of July getaway in Chicago! MileNorth is a top choice for travelers with any agenda. This top Chicago hotel is located near all the best things to do in town, making it easy to enjoy the fireworks, sightseeing and other top Chicago activities throughout the holiday weekend. Check out all the current Chicago hotel deals to make the trip more affordable and tack on even more fun things to do during the trip.
About ChicagoTraveler.com:
Chicago is one of the top vacation destinations in America famous for their annual events, popular foods, architecture and top sports teams. ChicagoTraveler.com guides travelers to all the best things to do, top places to eat and deals on the best places to stay in Chicago. Lizz Riggs, editor of ChicagoTraveler.com, can help travelers find all the best things to do, places to stay and deals to take advantage of on their next trip.