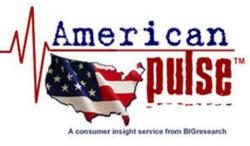 73.0% would rather shrink the size of government (resulting in fewer programs) than raise taxes in order to fund the government and all its current programs.
Worthington, OH (PRWEB) July 22, 2011
With a balanced budget plan still unlikely to pass both houses of Congress and the president's veto, Americans appear to be losing assurance in the government, according to the latest American Pulse™ Survey of 5,280 respondents. While elected officials work out a compromise to end the current debt crisis, voter sentiment remains dismal:
Debt Ceiling:

Regarding the debt ceiling, 41.1% of Registered Voters think it should be raised only if spending is cut by the same amount. 18.8% say it should be raised no matter what while 18.7% would favor a decrease.
74.6% of Registered Voters are somewhat or very concerned about a potential financial Armageddon. 9.6% are not concerned and 15.8% are neutral.
Voters are unsure what will happen if the debt ceiling isn't raised—42.4% think the U.S. will default on its payments, 37.5% have faith the government will find a way to pay and 20.1% are unsure.
If payments are prioritized, Voters want to see Social Security benefits (76.9%), Medicare/Medicaid benefits (59.1%) and spending on education (33.9%) taken care of first and paid in full.
Entitlement Programs:

The future of Social Security is not looking good among Voters. Nearly half (45.9%) would rather save/invest their own money for retirement. A majority of Voters ages 18-34 (61.5%) agree.
Government-sponsored programs in general do not fare well, especially when they are funded with taxes. 73.0% would rather shrink the size of government (resulting in fewer programs) than raise taxes in order to fund the government and all its current programs.
President Obama recently said he couldn't guarantee senior citizens would get their Social Security checks if the debt ceiling isn't raised. 48.2% said this was more a scare tactic than the truth while 35.8% lean towards the truth.
Current Sentiment Among Registered Voters:

Less than half (42.7%) feel the "American Dream" is still alive. 36.6% don't think it is while 20.7% are not sure.
If allowed to pick a past president to manage the economic situation today, 27.8% would bring back Ronald Reagan, 26.6% would pick Bill Clinton and 8.9% would keep President Obama.
If given the option to live in a decade other than the current one, 72.2% would take the offer. 18.0% would like to live in the 50s, 13.9% would retreat to the 80s and 12.1% would pick the 60s.
This disappointment in the current state of the U.S. will likely affect the vote in 2012. Instead of revving them up, however, it appears the gloomy economy has disheartened Voters. Less than half (48.7%) are somewhat or very excited to vote in the 2012 Presidential Election. Excitement is higher for the Republican Party (60.5%), flat among Democrats (48.5%) and much lower for Independents (38.2%).
For a complimentary report including political party breakdowns and a special look at key presidential match-ups among Independent voters, click here.
American Pulse™
The American Pulse™ Survey is collected online by BIGresearch® twice a month exclusively utilizing SSI's U.S. panel covering topics such as politics, pop culture and the economy. 5,280 respondents participated in the 2nd July American Pulse conducted 7/18-7/20/2011. Margin of error is +/- 1.4%. BIGinsight.com
Survey Sampling International (SSI)
Bringing together Survey Sampling International and Opinionology, SSI is the premier global provider of world-leading sampling, data collection and data analytic solutions for survey research. SSI reaches respondents in 72 countries via Internet, telephone, mobile/wireless and mixed access offerings. Value-add services include questionnaire design consultation, programming and hosting, data processing and real-time reporting. SSI serves more than 2,000 clients, including the top 50 research organizations. It has 30 offices serving clients around the world.
BIGresearch
Chrissy Wissinger
chrissy(at)bigresearch(dot)com
Randi Honkonen
randi(at)bigresearch(dot)com
614.846.0146
SSI
Ilene Siegalovsky
Ilene_Siegalovsky(at)surveysampling(dot)com
203-567-7230
###