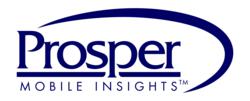 Over half play Angry Birds, and of those, 62.6% say playing this game makes them happy. Only 1 in 10 is actually angered by Angry Birds.
Worthington, OH (PRWEB) July 29, 2011
Over half of smartphone and tablet users said they never fully pay attention to ads on their devices when watching full TV episodes and playing games, according to a recent mobile survey conducted by Prosper Mobile Insights™ among smartphone and tablet users on their devices. 13.3% say they regularly pay full attention to advertising while watching TV on their device and 19.2% do the same while playing games. Ads found while surfing the web on a mobile device appear to get the most attention from mobile users:
Paying Full Attention to Advertisements on a Smartphone or Tablet
While Playing Games
Regularly: 19.2%
Occasionally: 30.5%
Never: 50.2%
While Watching Video Clips
Regularly: 15.3%
Occasionally: 42.9%
Never: 41.9%
While Watching Full TV Episodes
Regularly: 13.3%
Occasionally: 34.0%
Never: 52.7%
While Downloading Apps/Music/Etc
Regularly: 19.7%
Occasionally: 39.9%
Never: 40.4%
While Surfing the Web
Regularly: 35.0%
Occasionally: 37.4%
Never: 27.6%
Source: Prosper Mobile Insights™ Smartphone Survey, July-11
For a full, complimentary report, click here.
Further, 1 in 10 mobile users (10.8%) say advertisements viewed on their smartphone or tablet regularly influence the products or brands they purchase. Another 4 in 10 (40.9%) say these mobile ads occasionally influence their shopping habits. 48.3% are not influenced by ads viewed on a mobile device.
Consumers appear more likely to seek out the information they need from retailers or brands. 80.8% say they use their smartphone or tablet to look for a product or service. 79.8% use their mobile devices to locate a store or store hours, 55.7% research specific products and 53.2% receive text messages with special offers. 1 in 3 (33.5%) uses a mobile device to scan QR codes.
Over half (52.2%) also regularly or occasionally play Angry Birds, and contrary to popular belief, 62.6% say playing this game makes them happy. Only 1 in 10 is actually angered by Angry Birds.
For a full, complimentary report, click here.
Prosper Mobile Insights™ is a trademark of Prosper Business Development, Corp.
Contact:
Prosper Mobile Insights™
Chrissy Wissinger
Chrissy(at)biginsight(dot)com
Randi Honkonen
Randi(at)biginsight(dot)com
614-846-0146
SSI
Ilene Siegalovsky
Ilene_Siegalovsky(at)surveysampling(dot)com
203-567-7230
Bringing together Survey Sampling International and Opinionology, SSI is the premier global provider of world-leading sampling, data collection and data analytic solutions for survey research. SSI reaches respondents in 72 countries via Internet, telephone, mobile/wireless and mixed access offerings. Value-add services include questionnaire design consultation, programming and hosting, data processing and real-time reporting. SSI serves more than 2,000 clients, including the top 50 research organizations. It has 30 offices serving clients around the world.
###