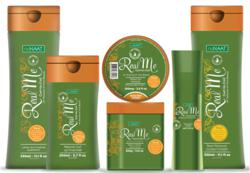 The Real Me collection features a unique blend of five natural oils extracted from nuts, fruits, and green collagen.
Miami, FL (PRWEB) June 18, 2013
The trend in beauty products has been a "be all, to all" approach, most recently catered to by BB Creams found in skincare and now haircare products. Beauty addicts demand quick results from highly-efficient, multi-tasking products. nuNAAT, a Brazil-based haircare manufacturer, recognizes that beauty needs are as unique as the individual. With a broad range of product choices based on hair type, texture, and styling routine, nuNAAT's latest product launch, the Real Me collection, introduces a paraben- and sulfate-free option of haircare products specifically designed to meet the unique needs of women with curly, coily, or kinky hair.
African American women have a high aptitude for knowing what their hair needs to be at its best. Why is this? Because curlier hair textures require special attention and extra TLC. To compliment and enhance natural curl and texture, finding the right combination of products to create a personalized haircare regimen is essential. With all of the new ingredients out there, nature still holds the key to success.
The Real Me collection features a unique blend of five natural oils extracted from nuts, fruits, and green collagen. nuNAAT has tagged this exclusive formulation "Join Complex" for its multi-benefits of hydrating the hair fiber for softer, more manageable hair.
Ingredients and Benefits:

Vegetable Collagen – extracted from the Acacia Senegal tree. Allows for better water absorption, thus preventing hair breakage.
Join Complex®:

PRACAXI – extracted from the Pentaclethra Macroloba tree typical of the Amazon region. Heals, hydrates, softens, enhances shine, and permeability.
Coconut – extracted from the nutritious coconut oil. Hydrates and softens hair fibers.
Macadamia – extracted from the macadamia nut from the Macadamia Tree of Australia. Maintains hydration for an extended period of time.
Avocado – extracted from the avocado fruit. Moisturizes and leaves hair silky.
Argan – extracted from the Argania Spinosa seeds of the Argan Tree, only found in Morocco. Repairs dry and coarse hair, leaving it shiny and frizz-free.
The complete collection features six products that work cohesively to make up a complete haircare regimen to benefit the needs of curly, coily, or kinky hair.
The nuNAAT Real Me collection includes:

Lather Up & Hydrate Shampoo
Real Moisture Conditioner
Pick Me Up Sheen
Blast of Shine Hair Mask
Natural Curl-Activator
Perfect Do Pomade / Edge Control
"The Real Me line was developed especially for curly hair types to help hair recover its natural balance while reducing volume, adding healthy shine, and ease of styling," says Sintia Martins, lead product developer for nuNAAT.
nuNAAT's Real Me collection is available in stores beginning July 2013.
Media requests can be sent to steph(at)nunaat(dot)com.
About nuNAAT:
We began fusing nature with modern science, creating an array of extraordinary hair care products. As a division of Brazil's M. Cassab Group, we carefully crafted our line with the belief that–with the right combination of natural ingredients–everyone can have great hair. After trying our products, others began believing it too. And just like that, nuNAAT was discovered. For more information, visit http://www.nunaat.com.