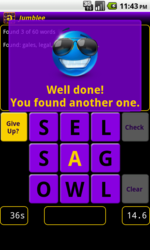 "One of the fastest growing scenarios is that of whole families sitting in their lounge room playing Jumblee Words on their flat screen TV.
Brisbane, Australia (PRWEB) March 27, 2012
Since launching 9 months ago, Jumblee Words has attracted a worldwide following with over 150,000 downloads and has provided 120 years worth of word game play around the globe. It is 100% compatible with all Android devices (including phones, tablets and Google TV devices) running Android 1.6 and up.
William Ferguson, founder of Xandar Mob remarked "I'm very proud of the latest version of Jumblee Words. It has really captured the competitive and fun learning environment for which we aimed. One of the fastest growing scenarios is that of whole families sitting in their lounge room playing Jumblee Words as a team on their flat screen TV."
Jumblee Words provides a unique take on the word game genre. The game provides eight basic letters and one special letter with which words of four or more letters must be built, each containing the special letter. These two restrictions add a significant challenge not present in most word games; enticing players to exercise their brains and find more complex and eloquent words. With the fast paced game play and constant feedback players quickly become hooked, improving their vocabulary and training their brains to think in more elaborate patterns.
Jumblee Words has more than 100,000 word jumbles with each jumble containing at least one nine letter word, so playing one game each day provides 275 years worth of fresh word scrambles! Allowable words have been compiled from a dozen online dictionaries and filtered to remove words that don't have a strong consensus, are abbreviations or are considered archaic or esoteric. So while not all words may be familiar, there is a reasonable chance of finding most words. Word definitions of all words can be retrieved (courtesy of Wordnik) so players can learn the meaning of any word used and increase their vocabulary.
Starting a new game presents a screen that displays a nine letter word scrambled across nine tiles. The central tile contains the special letter which must be used in every word. The clock starts at 60 seconds and counts down. When it hits zero the game ends. Words can be found by clicking on the letters and then on the Check button, which will validate the word and indicate whether the word is acceptable. A valid word increases the time on the clock by 20 seconds, gaining extra time to find other words. The score is displayed at the bottom right and points are earned when a word is found and lost as time elapses. To maximize their score a player should find as many words as possible, as quickly as possible and then click on the Give Up button. To help revitalize thinking during a game, clicking on the Shuffle button will cause the letters (sans the special letter) to randomly redistribute around the tiles. Shuffling helps find patterns of words previously missed.
At the end of a game the score is stored on the device, posted to a global leaderboard (courtesy of Scoreloop) and optionally posted to Facebook. After all, if a player has scored well why wouldn't they let their friends know just how much of a word wiz they are! So players can compete against themselves, compete against their friends or compete against the world.
Jumblee Words can be configured any number of ways, and in the latest version players can choose to only play jumbles with a certain number of words in them. The Preferences section also allows players to see all the words contained in the dictionary and in the future will allow players to modify the dictionary to suit personal tastes.
To download the game visit:
Google Play (aka Android Market): https://play.google.com/store/apps/details?id=au.com.xandar.jumblee
GetJar: http://www.getjar.com/Jumblee-Words
Web: http://www.jumblee.org
Facebook:https://www.facebook.com/pages/Jumblee/216146805064138
So for those into addictive puzzle games or anagrams, like word jumbles and word scrambles, want to improve their English vocabulary and spelling or enhance their scrabble skills, then this is the number one game to play.
Company: Xandar Mob
Lead developer and owner: William Ferguson
Xandar Mob is an indie game company devoted to quality of experience. If you groove to our games then we've done our job well.