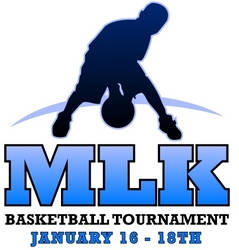 This is THE tournament to get excited about. Our Martin Luther King tournament Jan 16-18 is ideal for kicking off 2010 youth basketball play.
Phoenix, AZ (PRWEB) December 30, 2009
Leading youth basketball training facility and youth basketball tournament producers Jump Athletic and Just4Hoopin today announced the Martin Luther King (MLK) tournament being held January 16-18th. The three-day tournament is open to teams in Arizona and from surrounding states and will be held at two locations in the Phoenix area: North High School and Salvation Army Youth Center. The MLK club basketball tournament is a USSSA Basketball-sanctioned, grade based tournament for boys and girls.
Featuring the top club basketball teams from Arizona and surrounding states, the three-day tournament is open to six boys divisions, 3rd-8th grades and two girls divisions, 7th-8th grades. The MLK tournament is sponsored by Mojo Yogurt with free giveaways including yogurt tasting booth, t-shirts and gift cards to all Mojo Yogurt locations.
Tournament play will consist of at least three games for each participating team, including two pool-play games followed by a single-elimination championship bracket.
"This is THE tournament to get excited for and where the action will be among club teams in Arizona, California, New Mexico and Nevada," said Brian Sacks, Jump Athletic founder. "With school closed Monday for the holiday, it's the ideal place for shooting competitive hoops and kicking off 2010 youth basketball play."
Cost to register is $295 per team. Teams must register by 10:00pm Saturday, January 9.
Tournament daily admission is $3 and tickets will be sold at the door. Tournament passes for the three days are $6.
For more information or to register, visit http://www.jumpathletic.com.
Tournament Details
Tournament: Martin Luther King youth basketball tournament
Dates: January 16-18
Locations:
North High School
1101 East Thomas Road, Phoenix, AZ
Salvation Army Youth Center
1351 East Broadway Road
Phoenix, AZ 85040
About Jump Athletic Through its youth basketball training academy, club basketball teams, camps and clinics, Jump Athletic helps kids improve skills and ability in basketball, learn teamwork and grow confidence both on and off the court. Launched by basketball coach and magazine publisher Brian Sacks, Jump Athletic provides parents and their kids the ideal environment for skill- and team-building. Jump Athletic is centrally located in the Phoenix/Scottsdale area and offers the top trainers and unrivaled experience for both players and parents in youth basketball in Arizona.
Jump Athletic Resources
Twitter: @JumpAthletic
Facebook: facebook.com/JumpAthletic
Blog: jumpathletic.com/blog
Video: http://www.youtube.com/user/JumpAthletic
###