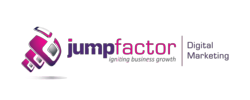 B2B buyers spend a lot more time researching and this means vendors must be exposed to potential buyers all the way from the early research phase to the sale phase
Toronto, Ontario (PRWEB) May 31, 2013
In the real world relationships have always played a major role in gaining new clients for B2B firms. The digital world is no different. Until recently gaining new clients online has been more challenging for B2B firms as compared to B2C firms. With the enhancements in Social Media and Marketing Automation this is no longer the case. Jumpfactor specializes in B2B Digital Marketing with a core expertise in Marketing Automation, Lead Generation, and Lead Nurturing to create high conversion marketing campaigns for firms.
"The key to successful B2B marketing is to understand the buyer," says a Director at Jumpfactor Digital. "B2B buyers spend a lot more time researching and this means vendors must be exposed to potential buyers all the way from the early research phase to the sale phase. Clients are more in control than ever and they want to research, study, analyze and decide in their own time. In person relationship building is still important, however the success rate and conversion rates skyrocket when coupled with content marketing and effective lead nurturing."
Lead nurturing and content marketing are not for the feint of heart. They require sophisticated software, and well thought out content development and publishing strategies. Typically this has only been done by large organizations. Jumpfactor offers a managed service which minimizes the need for in house marketing expertize and resource. Their proprietary software and past experience in setting up and rolling out successful high conversions B2B digital marketing campaigns makes them a superb partner for your B2B firm.
Engage today, and speak with Jumpfactor for a free Strategy consultation.
About Jumpfactor Digital
Jumpfactor is an award winning digital agency focused on maximizing return on investment for their clients. The core services are geared towards enterprises, brands, and high growth organizations. Jumpfactor specializes in search engine optimization, content marketing, social media marketing, and marketing automation. The company has offices in Canada, USA, and India.