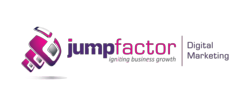 Our process has proven to be Resilient to Google Panda and Penguin updates, and also yields Constant increases in ROI. This literally means the ROI accelerates and grows
Toronto, ON (PRWEB) June 30, 2013
Jumpfactor has been ranked as the #1 Enterprise SEO Company for two years now. In achieving this the firm has perfected a process, the E4 process, which has allowed it to deliver stellar results to clients on a consistent basis. The details of the process involve a variety of proprietary tools and methods which are implemented for SEO strategies and content marketing strategies among Jumpfactor's other services.
"The process involves an iterative cycle that repeats ongoing for continuous ROI and improvement," says a Director at Jumpfactor Digital."The tools, software and specifics are all proprietary and have been developed over years of testing, however the overall process is now easy to understand. Our infographic and other marketing materials make is easy for clients to understand how we operate through the process."
When implemented, the E4 process has shown rapid results for Jumpfactor clients, commonly yielding large traffic increases within 30-60 days. Better yet, over longer periods the increases are sustained and continuous growth is seen.
"In contrast to most SEO firms who rank their clients for a few keywords and perhaps provide a small lift in traffic which then typically dwindles down as Google makes updates, our process has proven to be Resilient to Google Panda and Penguin updates, and also yields Constant increases in ROI. This literally means the ROI accelerates and grows."
For a complete visual overview of this powerful methodology pioneered by Jumpfactor visit their E4 Process page here.
The company also offers a free Marketing Analysis & Strategy consultation to show you what results you can expect from the E4 process and how it would be implemented for your business. Visit the site and fill out the form to have a specialist contact your company or call 855-529-JUMP(5867).
About Jumpfactor Digital
Jumpfactor is an award winning digital agency focused on maximizing return on investment for their clients. The core services are geared towards enterprises, brands, and high growth organizations. Jumpfactor specializes in search engine optimization, content marketing, social media marketing, and marketing automation. The company has offices in Canada, USA, and India.