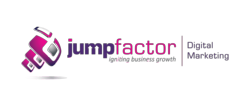 Law and accounting firms need to be able to brand themselves and showcase their knowledge, expertise and track records of success
Toronto, Ontario (PRWEB) May 31, 2013
Law firms and accounting firms need to build relationships to gain new clients; clients are looking for a trusted partner. Jumpfactor has been able to help these practices achieve tremendous success by leveraging digital strategies to build relationships and nurture leads into new customers. The Legal Marketing and Accounting Marketing programs which Jumpfactor offers are tailored and specific.
"Law and accounting firms need to be able to brand themselves and showcase their knowledge, expertise and track records of success," says a Services Manager at Jumpfactor Digital. " This requires a combination approach which consists of demand generation combined with lead nurturing. Our team understands these industries and is able to produce content and execute strategies that work. We also employ proprietary software to generate leads in real time."
Creating high quality content which resonates with businesses is no joke. Most clients are very weary of marketing firms understanding their business. Jumpfactor understands the importance of industry specific language and knowledge. The writers are ex-lawyers or accountants with industry understanding of cases, access to specific case history databases and ability to quickly analyze information and produce quality marketing content.
There is even a difference between B2B and B2C legal and accounting marketing. B2C tends to have much shorter sales cycles and requires almost immediate responsiveness and less focus on relationship building. B2B is much more about inbound marketing, high engagement and lead nurturing.
If you represent a Legal or Accounting Firm, get in touch with Jumpfactor today and get a free strategy consultation to see how they can take your practice to the next level with our Legal and Accounting Marketing program.
About Jumpfactor Digital
Jumpfactor is an award winning digital agency focused on maximizing return on investment for their clients. The core services are geared towards enterprises, brands, and high growth organizations. Jumpfactor specializes in search engine optimization, content marketing, social media marketing, and marketing automation. The company has offices in Canada, USA, and India.