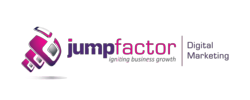 Through the use of innovative automation software and content marketing strategies these firms can reach out to potential clients earlier and close them faster
Toronto, Ontario (PRWEB) May 31, 2013
Consutling firms and services firms often have to prove their expertise to potential clients by sharing past successes. They rely heavily on referrals and case studies and personal relationships. Today these efforts can be automated and taken online into the digital realm to create powerful results. Jumpfactor's Professional Services Marketing program provide just that mix.
"Consulting firms and other professional services organizations have a prime opportunity today to leap ahead of competitors," says a Services Manager at Jumpfactor Digital." Through the use of innovative automation software and content marketing strategies these firms can reach out to potential clients earlier and close them faster."
The Jumpfactor Marketing team is experienced in helping B2B Professional services organizations showcase their expertise and maximize their lead generation efforts while increasing their conversion rates for highest returns.
To get further information and a free strategy plan, call Jumpfactor today.
About Jumpfactor Digital
Jumpfactor is an award winning digital agency focused on maximizing return on investment for their clients. The core services are geared towards enterprises, brands, and high growth organizations. Jumpfactor specializes in search engine optimization, content marketing, social media marketing, and marketing automation. The company has offices in Canada, USA, and India.About Jumpfactor Digital