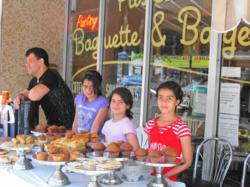 Toronto, Ontario (PRWEB) June 17, 2013
The Junction BIA is proud to present The Junction Summer Solstice Festival. Celebrating the longest day of the year, this is the first festival of the summer season and is happening from noon to midnight on June 22nd, 2013. Learn all about the Junction by enjoying a full day of activities and events promoting the very best the Junction has to offer. Join the fun with fantastic summer themed entertainment, sunny energy and a shopping experience like no other in the City of Toronto.
With over 80 local businesses participating, the Junction Summer Solstice Festival offers exclusive sales and promotions, music and art shows, stage presentations, open houses and featured menus. Participate in health activities, interactive performances and workshops while enjoying captivating shows by roaming artists, buskers and cirque performers.
Love food? With over 20 restaurants and cafes offering exclusive Summer Solstice menus, you'll be sure to satisfy your sweet tooth, cravings and inner foodie. But don't just indulge; meet the Junction's top health and well-being practitioners for some great practical advice on how to lead a healthier life. Furthermore, in support of Toronto Bike month we have a free bike clinic running the day of the festival. Bike to the Junction Summer Solstice Festival and receive a special small token of our gratitude!
Celebrate DIY culture, love for art, design and music. A green powered event showcasing our neighbourhood's passion for healthy living and love for fresh, sustainable food. From noon to midnight enjoy a variety of family friendly shows and workshops, take a spin on a Ferris Wheel overlooking the Junction and taste the best our community has to offer. Stick around and hunt for treasures at a special Junction Flea Night Market or experience our bustling nightlife. Don't forget to check out a movie screening of Buster Keaton's timeless classic, Steamboat Bill with musical accompaniment at the famous Junction Train Platform.
On June 22nd - noon to midnight - experience the magical allure of West Toronto's local treasure, the Junction!
When: June 22nd, 2013 from Noon to Midnight
Where: 80 + venues throughout the Junction Neighbourhood, 4 themed festival pavilions
http://thejunctionbia.ca/the-junction-summer-solstice-2013/maps-directions/
FS Local is a fun new Canadian Web business directory based in Toronto, Ontario. The company provides Internet marketing, advertising and consulting services for small businesses, with focus on local social media web marketing solutions. The Junction BIA works with FS Local to support local businesses in the community.