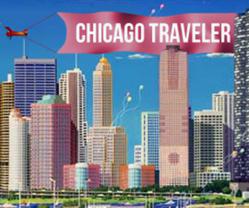 Chicago, Illinois (PRWEB) May 30, 2013
School is out and it's time for a summer vacation! Chicago is a year-round destinations, but everyone loves this city in the month of June before the temperatures get too hot, but while it's still warm enough for some fun in the sun! Get out and enjoy some sightseeing in the city, cool down on a rooftop bar, and then get wild every night this summer! ChicagoTraveler.com has announced the top things to do in Chicago in June 2013, from festivals and events to tours to the best shows in town this month. Find all the best activities, and a few deals to save on them too!
June 6-9, 2013 - Chicago Blues Festival (Full Lineup) - It's time for the 30th Annual Blues Festival, and the blues headliners are "Rollin' up the River" from Mississippi to Chicago, Illinois! The festival kicks off Thursday in Millennium Park at Jay Pritzker Pavilion, then the music moves to Grant Park on Friday-Sunday.
June 6-9, 2013 - Chicago Women's Funny Festival - Join some of the funniest ladies around for a few nights of comedy, standup, improv and more at Stage 773.
June 13, 2013 - Movies in the Parks Begins - From June 13 - September 14, over 150 parks will be playing movies on the big screen for a few nights. See 195 films scheduled this summer at various parks in Chicago.
June 16, 2013 - Father's Day in Chicago (and everywhere else) - ChicagoTraveler.com can help find all the best things to do in Chicago this Father's Day! Take dad out to a nice lunch or to one of the best breweries in Chicago, head to a baseball game this weekend or maybe go to the NHL Stanley Cup Finals.
June 22, 2013 - Jammin' in the Zoo - The Plain White T's and Super Happy Fun Club are performing an outdoor show at one of the wildest venues in Chicago - the Lincoln Park Zoo!
June 30, 2013 - Chicago Pride Parade - Starting at 12pm noon with the new route that was changed in 2012. The Chicago Pride Parade is one of the biggest events of the summer, where over 450,000 people get together to cheer, celebrate and party.
Cool down on one of this city's hottest tours - a Chicago boat tour! There's a boat tour for everyone in Chicago, whether you like it slow and scenic, fast and entertaining or even if you're traveling on a budget! Chicago boat tours are a great way to see the beautiful city skyline and learn all about it from some of the most entertaining guides in town! Chicago bike tours are another great way to get around and see the sights, and Bobby's Bike Hike offers so many tours, day and night, to fit your schedule and cover everything you wanted to know about Chicago! Sightseeing does work up an appetite though, and Chicago food tours are a great way to get eat your way through a city known for it's cuisine!
ChicagoTraveler.com has compiled deals in Chicago for tours, attractions and all the best things to do! Save on some of the best boat tours and bike tours just for booking online. Save big on top museums and attractions with Chicago discount cards. ChicagoTraveler.com has also compiled some of the best hotels deals in Chicago! A trip during one of the most popular vacation times of the year doesn't have to be expensive.
The hotter the weather, the cooler the bands, and June has a great lineup of music in every genre! Kick off the month on June 1 with Lovehammers at House of Blues or Dispatch and Guster at Charter One Pavilion at Northerly Island. On June 3, Rolling Stones will be at United Center. From June 11-16 see Russell Brand, Seth Meyers, Bob Newhart, David Cross, Bill Maher and more during Just for Laughs at Chicago Theatre. From June 14-16, attend one of Chicago's hottest EDC concerts Spring Awakening Festival. On June 20 Portugal the Man will be at House of Blues. On June 28, see OAR at Charter One Pavilion at Northerly Island. End the month on June 29th at She and Him at the Aragon Ballroom, followed by Jimmy Buffett, perfect summer music, at the Charter One Pavilion at Northerly Island.
In more of a theatre-going mood? Head to the Chicago Theatre District for one of the shows this month! Book of Mormon, West Side Story, Head of Passes, Cirque Shanghai - Dragon's Thunder at Skyline Stage at Navy Pier, Buddy: The Buddy Holly Story, Cat in the Hat, The Jungle Book will all be playing at some point this month! Check out the full Chicago theatre schedule to start planning a night on your next trip!
About ChicagoTraveler.com:
Chicago is one of the top vacation destinations in America famous for their annual events, popular foods, architecture and top sports teams. ChicagoTraveler.com guides travelers to all the best things to do, top places to eat and deals on the best places to stay in Chicago. Lizz Riggs, editor of ChicagoTraveler.com, can help travelers find all the best things to do, places to stay and deals to take advantage of on their next trip.