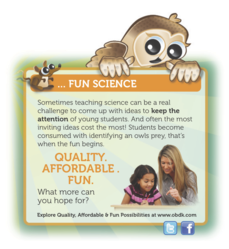 The donation will help us achieve our goal of establishing BBG as a place for young families to enjoy learning about the natural world.
(PRWEB) June 08, 2011
When small business owner Chris Anderson started Owl Brand Discovery Kits 15 years ago, it wasn't so that he could give product away. That's what's going on over in Cheyenne, Wyoming where Owl Brand Supply Company operates a Kindergarten through High School educational science company that specializes in barn owl pellets.
Stockbridge, Massachusetts teacher Judy Boschetti of the Berkshire Botanical Garden couldn't be happier about that.
"I think this is the first time I've ever asked for a grant and received it!" Judy told the Owl Brand President by phone when he called her to notify her of the grant. "Berkshire Botanical Garden is a small nonprofit organization. As Youth Education Coordinator, it is my goal to provide high quality, relevant, and engaging activities related to horticulture and our surrounding natural environment. However, an extremely limited budget requires me to choose the most affordable options for materials, which may not always be the best option educationally."
Judy continued to say, "This is my greatest obstacle to giving children a terrific learning experience."
Owl Brand Discovery Kits specializes in selling sterilized barn owl pellets that demonstrate a range of hands-on learning objectives including prey and predator relationships, anatomy, food chain studies, and more. "It's a fun lab! Our customers include home school parents, public schools, camps of all kinds, and even family members or friends who'll ask us to send a gift to a loved one. Last year we sent out a dissection lab for a birthday party. That was interesting."
In addition to selling labs at their online store, Owl Brand Discovery Kits promotes the company through a generous grant program called Finding Funding for Teachers.
"When I considered the investment being made in promoting the Owl Brand, it occurred to me that there must be a better method of honoring the teachers and students who visit our website and inquire about our products. It's an unfair reality that the high cost of advertising is simply passed on to customers through any retailer's pricing." Anderson continues, "A few months back, I asked the question, "What if I diverted a percentage of our advertising and promotional costs toward giving product away? What would the outcome be?" The outcome was the Finding Funding for Teachers initiative that we promote."
The fourth grant in as many months, the outcome couldn't be better as Ms. Boschetti describes, "I can't believe it! We really appreciate the donation to our program and may not have been able to do it any other way. The donation will help us achieve our goal of establishing BBG as a place for young families to enjoy learning about the natural world."
Other recipients have included teachers in Connecticut, Oregon, and Colorado. "My goal is to cross the states with this program and if we can do more, we will" says Anderson.
To learn more about the Finding Funding for Teachers initiative, visit the Owl Brand Discovery Kits website at http://www.obdk.com. You'll find a great selection of interesting resources and the instruction on being considered for a grant for your classroom.
###