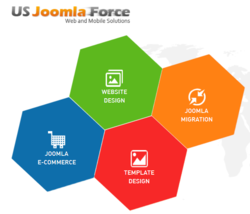 First 50 visitors will be offered $250 discount coupon for any future assignment
Dallas, Texas. (PRWEB) June 02, 2013
US Joomla Force, the leading Joomla solutions provider and a leading web and mobile website developer, announces the launch of its new website.
US Joomla Force was founded in 2007 by CAP Digisoft Solutions, Inc., a global Business Process Outsourcing and Software Development Company. US Jooma Force's mission is to bring Joomla, an award winning Content Management System (CMS) to businesses and government entities of all sizes and industry types. Joomla is used by developers worldwide to build web sites and powerful online applications. Literally, millions of websites run on Joomla.
Since its founding, US Joomla Force has created more than 500 websites and today manages over 100 large websites. This business has been built on US Joomla Force's hallmarks of high quality of all services, very competitive pricing, projects completed on time and on budget, responsiveness to emergency requests and a total commitment to the customer. Combined with a very experienced web design and maintenance team, US Joomla Force has supported large governmental entities and a wide array of eCommerce business users.
The relaunched US Joomla Force website, is designed for ease of use by clients for all of their website design and development, mobile website conversion and email automation. This allows even the smallest company to take full advantage of Joomla Migration, Joomla Template Design, Joomla eCommerce Support and Joomla Hacking Fix.
On the relaunched website, US Joomla Force offers free downloads of Joomla features including Joomla Migration Essentials and Joomla Web Design Essentials. Visitors to US Joomla Force may also sign up for their free blog, where regular updates about Joomla and changes to the content management system are posted.
As an incentive to check out USJoomlaForce's new website, the company is offering a $250 discount coupon for any future assignment to the first 50 visitors who complete a "claiming my $250 discount" form.
For more information about US Joomla Force, please contact Arun Kumar, CEO at 214-295-5238 or by email arun(at)usjoomlaforce(dot)com