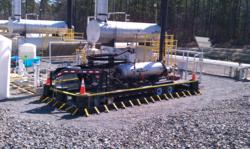 When is a duck pond a containment berm?
Meridian, Idaho (PRWEB) June 19, 2013
The industry of spill containment is filled with interesting terminology, but none quite attention grabbing as the newly coined use of duck ponds for a synonym of containment berms. Over the past few years, people have begun utilizing the name more befitting a place where fowl aggregate to search for spill containment products. There are major differences between products and function. The following lists four important ones.
A containment berm can be stationary. Most spill containment is portable, but in some instances, there is a need for permanent use. Liners for ponds or secondary containment surrounding installed equipment can last decades. The material used in these applications is extremely tough under a myriad of weather conditions. The sides of containment berms are held up by sturdy stays made out of aluminum or hard plastic.
Duck ponds are always portable. The idea behind a spill containment duck pond is the ability to move it effortlessly. It is lightweight and made from a material that can withstand a variety of chemicals and fuels over a short period. This unit is meant for medium usage, such as temporary storage of oil-filled barrels or placing under a truck during fuel transfers. Duck ponds can be folded up and stored in a very compact space. The unit weighs between three and twenty six pounds depending on size. The units are popular in Alaska where truckers are required to have on board containment supplies in the case of a spill.
Containment berms are meant to be driven through. Some spill containment requires configuration for multiple usages and must be rugged. They also have to keep all liquids from reaching the ground during deployment. This requires a tough product with multiple layers that can also be driven on many times. Some have sides that can be manually lowered, while others employ a closed foam cell that stays in place. During fracking operations in Texas or Oklahoma, containment berms move from one job site to another protecting the ground while containing fluids. These berms perform an important function concerning regulatory compliance and green practices.
Duck ponds are less expensive. The material used in the units is PVC, a sturdy and time-tested fabric. It is used in a variety of applications and meets the needs of short term and light to medium use containment. The process to manufacture the spill containment product is straightforward, less time consuming, and employs no stays in the berm walls. The function of the duck pond is uncomplicated by the need to raise or lower sides, or have a permanent containment solution. It is purely a throw it down and proceed product.
Both containment berms and duck ponds fill requirements for EPA compliance and regulation. The choice between the two is lead by the scope of the function and the liquids, to be contained in addition to the duration of the project.
For more information on containment berms, duck ponds and other spill containment solutions, contact Aire Industrial, 2021 E Wilson Ln, Meridian, Id 83642, 1-800-247-3846 or visit http://www.aireindustrial.net where information, photos and supplemental chemical compatibility charts can be found.
About AIRE Industrial:
Located in Meridian, ID, AIRE Industrial has combined its technical knowledge and manufacturing expertise of flexible textiles to provide liquid containment products and spill prevention solutions for government agencies, military, agriculture, environmental containment, and the wild land fire suppression industries.
The founders of AIRE Industrial are outdoor enthusiasts, protectors of the environment, and take pride in using American sourced materials and keeping jobs local. AIRE Industrial offers a complete line of flexible storage tanks and bladders as well as portable secondary containment berms, spill kits and containment products. AIRE Industrial has offices in Idaho, Washington, North Dakota, and partners in Europe, Asia, North Africa, New Zealand, The Middle East and South America. AIRE Industrial is a division of AIRE Inc. AIRE Inc. is the largest inflatable boat manufacturer in the U.S.