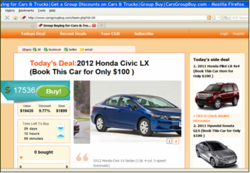 (PRWEB) June 01, 2011
At present hundreds of group buy sites are available for spas, salons, restaurants etc; however, there isn't a single exclusive website for "Group buy for cars"(http://www.CarsGroupBuy.com).
Its managing partner Zenifar says her website offers customers the best and easiest ever way of owning a vehicle. Lowest prices are published in the site and there is an absolute hassle free car buying experience.
Recently launched, CarsGroupBuy.com negotiates huge discounts directly with car dealers in return for referring a minimum number of customers. It publishes final out-of-the-door prices in a very transparent way. Published price includes all except mandatory taxes and government fees.
When a deal is available, customers can book the vehicle by paying $100 only through this site. When the deal is tipped off, the customer can print the coupon and present it to the dealer to collect his car by paying off(or financing) rest of the amount at dealer location. The booking fee collected here will be adjusted if vehicle is bought and fully refunded if he/she decides not to buy the car.
Currently, CarsGroupBuy.com is offering huge discounts on cars and SUVs such as Honda Civic 2012, Honda Pilot 2011, Hyundai Sonata 2011 etc. Also some unbeatable deals are being finalized and will be published soon.
CarsGroupBuy.com is a "Verisign trusted' site and also verified by "Paypal'.
As a launching offer, dealers can publish their special deals in carsgroupbuy.com absolutely free of cost.
For any questions or comments, please email at contactus(at)carsgroupbuy(dot)com.
###