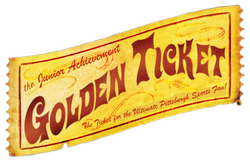 It's the ultimate Pittsburgh sports package
Pittsburgh, PA (Vocus) July 26, 2010
Junior Achievement of Western Pennsylvania (JA) has created the perfect grown-up version of the Golden Ticket. Tickets will be sold through JA starting on July 1st through August 31st for $50 each. JA has assembled an extraordinary prize perfect for all Pittsburgh sports fans - the winner will receive a pair of tickets to each of the following:
All Pittsburgh Steelers home games, including one road game
20 Home-game package to the Pittsburgh Penguins (section 118 at the NEW Consol Energy Center)
Full season of home games—Pitt Men's Basketball
Full season of home games—Pitt Panthers Football
That's more than 50 of the most sought after sporting events happening this coming season. "It's the ultimate Pittsburgh sports package," comments Dennis Gilfoyle, President of Junior Achievement. The raffle winner will be drawn at the JA office on September 1st at 5:00PM. A limited number of tickets will be sold, and can be ordered via the JA website, http://www.jawesternpa.org, or by calling the JA office. You may also purchase tickets at participating area First Commonwealth and Northwest Savings Bank branches. Get your tickets now for this once-in-a-lifetime opportunity to be there for every goal, touchdown and basket!
About Junior Achievement
Junior Achievement (JA) is the world's largest organization dedicated to inspiring and preparing young people to succeed in a global economy. Through a dedicated volunteer network, JA Worldwide provides in-school and after-school programs for students which focus on three key content areas: work readiness, entrepreneurship, and financial literacy. Today JA reaches more than 60,000 students in western PA through some 3,000 local volunteers. Junior Achievement reaches over four million students through 138 individual offices nationwide, and an additional 4.3 million students served by operations in 114 countries worldwide. For more information, visit http://www.jawesternpa.org
###