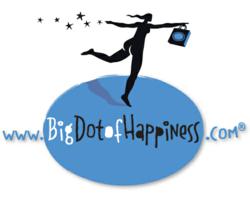 Junior Achievement is a program we really believe in. ~ Sherri Yukel, Founder and President
Menomonie, WI (PRWEB) July 12, 2012
Big Dot of Happiness, LLC, the creator of unique party themes and party supplies, was founded with the same entrepreneurial spirit Junior Achievement USA values as a core content area, making the perfect opportunity for Big Dotters to volunteer their knowledge and skills in the classroom. Various departments, including Creative, Customer Service, Website Development and Purchasing, participated in the program to share their passion for economic success.
Assisting fifth graders in the spring Junior Achievement program with hands-on activities, the Big Dot volunteers were able to create an awareness of the global marketplace and the career opportunities available to young people as they begin to think about their future. "Junior Achievement is a program we really believe in," says Sherri Yukel, founder and president of all Big Dot Shops. "Everyone is connected and Big Dot of Happiness is the prime example. We can go into the classroom and use our first-hand experience to teach children about creating products in-house, working with suppliers nationwide and communicating with manufacturers from all over the world. Junior Achievement gives us the tools to engage young people and we provide the experience to bring those tools to life. It really is the perfect fit."
Big Dotters are passionate and love what they do, exemplified in their eagerness to give back to the community with involvement in Junior Achievement of Wisconsin. "The experience is a teaching opportunity for both parties," says Yukel. "Every week, the volunteers would come back from their classrooms with stories or interesting perspectives the children had on the global economy. I think we all benefited from the experience."
The Big Dot volunteers related the lessons to their involvement with the global marketplace and were able to bring attention to local careers. "There is so much opportunity for young people – and we are proud to be part of a program that encourages them to dream big," says Yukel.
About Big Dot of Happiness, LLC
Big Dot of Happiness, LLC, is an event party company and the originator of various games, invitations and themed party supply products called "Big Dot Originals." With personalized invitations, impressive party favors and unique party decorations, Big Dot of Happiness, LLC, makes everyday parties into extraordinary events. Making life's occasions fun. It's about time. "We create remarkable smiles by embracing a remarkable culture."
Contact:
PR Coordinator
Big Dot of Happiness, LLC
1.800.274.4282
http://www.bigdotofhappiness.com