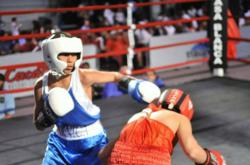 This is going to be huge. We have been receiving registrations from all over the country just about every day.
Mesquite, NV (PRWEB) July 13, 2011
The Junior Golden Gloves Nationals, dubbed a huge success in its fourth appearance last year in the CasaBlanca Event Center, returns here July 20-23 attracting top-notch young boxers ages 9-16 from several states.
Doors open at 5 p.m. each night with an estimated 500 boxers expected to compete. The response has been so strong that promoters Dawn and Pat Barry and their daughter, Tournament Director Dawn Sanchez, had to add another day to the competition for this year.
Last year's key victories in the event included 16 year-old Deyon Christie of Las Vegas who won the heavyweight division and was also named outstanding boxer for his category; Marco Magdaleno of Las Vegas in the 138 class; Brandun Lee of Yuba City, Calif., who took his third victory in the 11-12 80-pound class; and Pano Tiatia of St. George, Utah in the 13-14 154-pound class.
Tiatia also won the outstanding boxer for his category.
Special awards for this year include Coach of the Year; Outstanding Official; Outstanding Volunteer; along with Best of Boxer awards in each division; and first, second and third-place team award/franchise awards.
Among the new boxers expected to shine this year are Las Vegans Jamal Watson, 13-14, 114-pounds; Kenny Pimentel, Jiju Batye, 10-11, 90 pounds, who will be in the event for the third time; Francisco Diaz, 8-9, 60 pounds.
"This is going to be huge," said Dawn Barry. "We have been receiving registrations from all over the country just about every day. This should be the largest junior national Golden Gloves ever and we cannot say enough how much we appreciate the help of Black Gaming and the CasaBlanca Hotel. Without their support, this would not have happened."
Among the teams entered is one from New Jersey which is bringing 25 boxers to compete.
"That's a lot of boxers for one tournament," Dawn Barry said. "California brings a lot of boxers, too. Boxers can register right up until the day before the event starts and we even have a team from Hawaii entered this year."
One day passes are available for $15, while two-day passes are $25, three-day passes $30 and four-day passes are $35.
The Junior Golden Gloves Nationals will return to the CasaBlanca Event Center through 2013 while the Senior Nationals Golden Gloves Tournament of Champions for boxers ages 17 and up is scheduled in May of 2012.
Further information regarding the Golden Gloves can be found at http://www.jrgoldengloves.com or by calling Dawn Barry at 702-368-2696.
The Golden Gloves competition has included representation by the top names of boxing dating back to 1928.
Former Heavyweight Champion of the World Joe Louis was a Golden Gloves Champion in 1934. Many other champions including Muhammad Ali (1960); Sugar Ray Leonard (1973); "Marvelous" Marvin Hagler (1973); Michael Spinks (1974); Thomas "Hitman" Hearns (1977); Johnny Tapia (1984); Mike Tyson (1984); Evander Holyfield (1984); Oscar De La Hoya (1989) and Jermain Taylor (1998 and 1999) all got their start in the Golden Gloves tournaments.
# # #