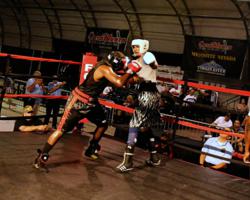 "I have been coming to this event for three years. I love it. The fighters show so much respect for one another.
Mesquite, Nevada (PRWEB) July 27, 2011
The Junior Golden Gloves Nationals boxing tournament concluded a four-day run Saturday here at the CasaBlanca Event Center crowning champions in several categories for young fighters ages 9-16.
In what may be the purest form of a legitimate athletic event highlighted by great talent, big hearts and non-stop action, a showpiece of special events that could have been held anywhere in the country has again attracted wide-spread praise.
"This is a very well-oiled machine," said an understandably exhausted tournament director Dawn Sanchez following the last of hundreds of bouts presented in three rings built in the Event Center outside the CasaBlanca Resort about 80 miles north of Las Vegas. "We expanded the event this year to accommodate more athletes and everything went well.
"I have to say that after five years of putting together this tournament, the Barry and Sanchez families know what to do."
Indeed, the event was the result of a dedicated family effort spearheaded by Dawn Sanchez; her husband, Augie, a former world-class boxer; and her parents, Dawn and Pat Barry, who also operate Barry's Boxing in Las Vegas.
The seamless Golden Gloves Junior Nationals brought priceless public relations to this city while also showcasing the sport of boxing long before agents, questionable promoters; big money and the rest enter the fray.
With nearly 300 boxers throwing right hooks, straight jabs and uppercuts for several days, another Golden Gloves blockbuster carried on a history that once featured the likes of notable fighters such as former champions Joe Louis, Muhammad Ali, Sugar Ray Leonard, Marvelous Marvin Hagler, Oscar De La Hoya and Thomas "Hitman" Hearns.
For more than 70 years, the Golden Gloves has been showcasing young talent and it was no different this time especially with enthusiastic family members and friends cheering on their favorite competitor.
Take for example, proud father Fernando Diaz, whose 12 year-old son Rey Daniel won his second title in the 11-12 year-old class for 75 pounders.
"You cannot believe how proud I am of my son," said Diaz, a 30-year-old native of Las Vegas who labors as a sheetrock worker. "Rey is going into the seventh grade and he's a straight-A student. He works really hard and gets up early in the morning to train.
"He's a great kid."
For the record, a team from California captured the overall title with 65 points while another team from New Jersey traveled more than 2,500 miles to take second place with 20 points and Nevada garnered the third-place spot with 17 points. Other states were represented by Hawaii, Alaska, Ohio, Washington, Maryland, Oregon, Texas and Indiana.
However, it goes without saying that everyone was a winner in Mesquite where hotels were jam-packed with visitors that included great kids, dedicated family members and an array of support personnel of Black Gaming hotel workers and Golden Gloves workers consisting of judges, referees and laborers all of whom can finally relax knowing that yet another event is in the books.
Among the judges working the event was Natalie Tyrrell, who is also a Clark County Justice of the Peace in Las Vegas.
"I have been judging fights for three years and I love it," said Tyrrell, a native of Minnesota who chose in 1990 to escape the cold for Southern Nevada where she no longer has to worry about snow or ice-covered streets. "(Las Vegas fight judge) Joe Cortez got me into the Golden Gloves."
Even the vendors had a good time at the Junior Golden Gloves.
"I have been coming to this event for three years," said Troy McLeod, a 40 year-old native of Las Vegas who said business was good. "I love it. The fighters show so much respect for one another."
Glyn Bolton, who traveled to Golden Gloves Nationals from England, said he fully enjoyed the competition.
"There are two reasons why I keep coming back," said Bolton who has been traveling to Southern Nevada since 1988. "I come to help the kids do the technical work before they go to the Golden Gloves. From my own interest and everyone is done, I meet with all the coaches and pick up the tips which take back to England where I hope I can make my guys better boxers."
Black Gaming General Sales Manager Michele Evans, who personally helped land the Golden Gloves events for Mesquite, also lauded the program.
"I'm tickled with how this has gone," she said. "We had more of a crowd than we originally anticipated and we fully consider hosting the Golden Gloves to be a huge success."
Junior Golden Gloves Nationals
July 20-23
CasaBlanca Event Center
Mesquite, Nev.
Championship Bouts
9-10, 60 – Vito Mielnicki, New Jersey, def. Ernesto Mercado, California.
9-10, 65 – Elmer Monarez, California, def. Omar Estrada, Oregon.
9-10, 70 – Omar Torres, Calif., def. Xavier Gordin, Arizona.
9-10, 75 – Rajon Chance, New Jersey, Luis Ybarra, Colorado.
9-10, 85 – Angel Romero, California, def. Anthon Soto, Colorado.
9-10, 95 – Joji Butay-Fillon, Nevada, def. Javon Lee, Washington.
11-12, 65 – Joey DeLeon, Illinois, def. Malik Nelson, New Jersey.
11-12, 70 – Andrian Benton, Ohio, def., Jimmy Doyle, Washington.
11-12, 75—Rey Daniel Diaz, Nevada, def. Dylan Price, New Jersey.
11-12, 80 – Robert Cosio, Illinois, def. Andre Conway, California.
11-12, 85 – Fidencio Hernandez, California, def. Nikita Ababiy, New York
11-12, 90 – Daniel Castro, Jr., Utah, def. Jamar Beasley, Nev.
11-12, 114 – Carlos Mendoza, Oregon, def. Robert Montano, Utah.
11-12, 145 – Elija Green, Missouri, def. Richard Torrez, Jr., California.
13-14, 80 – Daniel Gonzales, California, def. Shon Mondragon, Colorado.
13-14, 95 – Carlos Balderas, California, def. Luis Espinoza, Arizona.
13-14,106 – Pablo Rubio, California, def. Edward Ceballos, Arizona.
13-14, 114 – Bryant Ayala, Oregon, def. Ronnell Jackson, Maryland.
13-14, 119 – Garrett Serrano, California, def. Raul Anaya, Arizona.
13-14, 132 – Jeremy Saldana, New Jersey, def. Efrain Garcia, Washington.
13-14, 145 – Darrell Gibbs, Ohio, def. Suray Mahmutovic, California.
13-14, 165 – Teofilio Bueno, California, def. Alan Manzano, Oregon.
15-16, 101 – Jose Balderas, California, def. Pablo Ramirez, Texas.
15-16, 114 – Efren Lopez, California, def. Francisco C deVaca, Arizona.
15-16, 119 – Gary Salazar, California, def. Israel Mercado, California.
15-16, 125 – Lamont Roach, Jr., Maryland, def. Kevin Salgado, Illinois.
15-16, 132 – Efrain Estrada, Oregon, def. Jahmeer Jett, Pennsylvania.
15-16, 138 – Julian Rodriguez, New Jersey, def. Kenneth Thomas, Jr., Indiana.
15-16, 145 – Trinity Lopez, Montana, def. Jakaire Walden, Florida.
15-16, 154 – Israel Quintero, Jr., Texas, def. Jacob Harper, Ohio.
15-16, 165 – Anthony Sims, Jr., Michigan, def. Josh Rodriguez, Oregon.
15-16, 189 – Lou Grant, Florida, def. Albert Fundora, Florida.
###