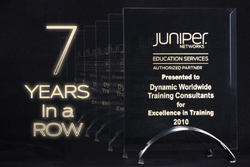 "We are pleased to recognize Dynamic Worldwide Training Consultants as one of the top performing JNAEP's in the Americas "
Tempe, AZ (PRWEB) February 25, 2011
Dynamic Worldwide Training Consultants, an international I.T. training company based in Phoenix-Tempe, Arizona, has been honored as one of the leading Juniper Networks Authorized Education Partners in the Americas for 2010.
As a JNAEP partner, Dynamic Worldwide Training Consultant's trained technicians are authorized to provide in-depth, technical training and education courses on a variety of Juniper products including the JunOS Operating System, Firewall/VPN, SSL and all Juniper Routing and Switching products. Targeted at end-users and resellers, these valuable courses are derived from Juniper Networks' proprietary training curriculum and range from introductory to intermediate and meet the need of Juniper Certification programs.
Dynamic Worldwide Training Consultants plays an important role in the global implementation of Juniper Networks' Technical Certification Program (JNTCP). The JNTCP consists of platform-specific, multi-tiered tracks, which enable participants to demonstrate their competence with Juniper Networks technology through a combination of written proficiency tests and hands-on configuration and troubleshooting exams. DWWTC uses only certified Juniper Networks instructors who meet the certification requirements and rigorous training process Juniper Educational Services has established.
"We are pleased to recognize Dynamic Worldwide Training Consultants as one of the top performing JNAEP's in the Americas," said Linda Moss, Director of WW Education Services at Juniper Networks. "Through our Authorized Education Partners, we are expanding the reach of Juniper's Education Services around the globe and providing the local training customers and partners need to maximize their technology investments."
About Dynamic Worldwide Training Consultants:
DWWTC's company's headquarters campus is located in Tempe Arizona, with offices in 18 cities in the USA, Canada and Mexico, and courses delivered worldwide. Courses are specifically designed to target the needs of IT professionals. More information is available online at http://www.dwwtc.com or call at (866) 399-8287.
###