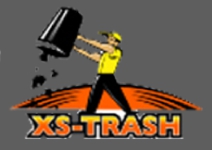 Big or Small we trash it all
Fort Lauderdale, FL (PRWEB) July 31, 2012
XS Trash Owns Largest Trucks in Industry – 7-31-12 Using 21 yard trucks, the largest in the entire industry, XS Trash is a fully licensed and insured full service junk removal company that provides junk pickup, foreclosure cleanout, trash removal, junk hauling, appliance and furniture removal, demolition cleanout, construction and debris removal, and more, leaving customers with no aggravations or extra work for the most reasonable rates around. This "green" company recycles, removes salvageable items for free, offers free estimates, and takes pride in the fact that since their trucks are 7 yards longer than all competitors' they are able to conduct their services with more efficiency and in a more cost-effective and environmentally friendly way. XS Trash is a proficient and dependable trash removal and clean up company that always provides customers with superior service for superior value, offering 10% off any service with the mention of their website, proudly providing senior citizen discounts, and fully guaranteeing all work. They provide both residential and commercial assistance and services throughout the Tri-County Area encompassing Palm Beach County, Broward County, and Miami-Dade County.
This dependable and affordable junk removal company provides a multitude of services ranging from the removal of as little as one item to multiple truckloads, which are capable of containing much more than other companies, and offers convenient scheduling, often same day, even working on evenings and weekends as well. Customers need not even bring their trash to the curb; the technicians handle every aspect of every job, from pick up and loading, to hauling, removal, and final clean up. XS Trash has been deemed one of the best in the industry because they hire only the most highly qualified, highly trained, and highly skilled technicians who pride themselves on their professionalism, proficiency, and dedication. Their main goal is to make the process as easy, efficient, and hassle-free as possible for their clients with their low rates and ability to haul more items at one time than any other company.
XS Trash provides convenient services such as Foreclosure Clean Outs for both commercial venues such as business locations and restaurants, and residential locations such as houses and garages as well. This process involves the removal and disposal of items from basements, attics, garages, yards, office spaces, warehouses, and even whole homes. For Furniture Removal Services, whether one is moving, renovating, or conducting a full Clean Out, they complete the full removal of all furniture with timeliness and ease, alleviating customers from the moving or transporting of any sofas, beds, dressers, desks, cabinets, bookcases, tables, chairs, or any other items. In the areas of construction and demolition, XS Trash understands how overwhelming the cleanup can be, so one may rent from them the necessary equipment, or they may take advantage of their full service debris cleanup, removal, and disposal services, and not worry about any of the manual labor. Whatever junk removal, construction or demolition debris clean up, trash removal, hauling, and disposal, or furniture or foreclosure removal needs to be completed, there is no job too small, and certainly none too big for XS Trash, as their 21 yard long trucks ensure.
Media Contact: Michael Jaward
Phone: 954-775-4717
Email: mjaward(at)msn(dot)com
Website: http://www.xstrashflorida.com