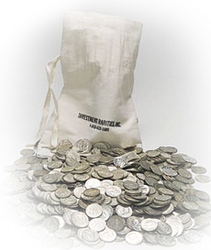 Universal City, CA (Vocus) September 23, 2010
US Junk silver coins minted before the year 1965 are 90% silver in content. $1.40 face value combination of these dimes, quarters and half dollars contains 1 once of silver, which now currently trades for approximately $20. As this information is becoming more well known people are taking a closer look at their coins before putting them across the grocery counter. Gold dealer Regal Assets is offering junk silver to their clients as these coins gain leverage in the international precious metals market.
Junk silver coins are being purchased in bulk bags by global investors witnessing other countries renewed interest in gold to back debt and be used to hedge against inflation. Gold bullion is being acquired by the most powerful countries in the world as a financial crisis continues and paper currency values come under question. Silver is the only other medal next to gold bullion with a historical precedent to be used as currency exchange worldwide.
Junk silver coins have become so popular that some companies that sell gold bullion are now offering different value bags to simplify the purchase. Regal Assets has started to offer junk silver bags online thru http://www.regalgoldcoins.com so that Americans can make their purchase and have the silver ship direct to their home within three business days. This has now become a major form of investment where people actually take physical delivery of a tangible asset.
Global forms of trade are becoming more popular as the US dollar continues to battle a deepening recession with an unquestionable future, Regal Assets recommends taking physical delivery of gold bullion or silver as opposed to say owning gold stock for having an electronic fund. Other countries like China have already implemented programs to buy gold their banks and encourage citizens to take physical possession of gold and silver.
Regal Assets has been encouraging individuals to start handling their investments from a global perspective. They recommend having a minimum of 6 months basic living expenses in gold bullion coins and silver coins. Junk silver is currently the best value for the money as it does not carry the premium as certified silver bullion coins. You can still order junk silver by phone at 1-888-700-9887 or now direct online from http://www.RegalGoldCoins.com.
###