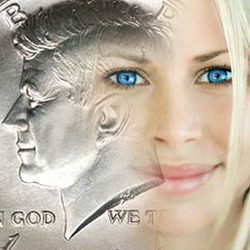 Universal City, CA (Vocus) November 2, 2010
Junk silver coins have been getting a lot of buzz on the internet as more Americans embrace their understanding of gold and silver. The key factor that separates junk silver from other silver opportunities is that US silver coins minted prior to 1965 are guaranteed to contain 90% silver. If you do the math that means $1.40 of any combination of these junk silver coins equals 1 ounce of silver.
US gold coin dealer Regal Assets has recently expanded its silver coin investments to include bulk junk silver bags. These bags contain quarters, dimes, nickels, half dollars and dollars into batches. Each $1.40 face value batch of coins has approximately 1 oz of Silver in it. They begin at $50 face value which contains approximately 35 ounces of silver. These bags now range up to $1,000 face value as gold investors are encouraging larger bulk transactions for investment.
Currently the price of silver is at around $25 dollars a troy ounce making junk silver coins a hot topic. For those that have been keeping their change in a jar for a rainy day, you may want to think twice before just taking them to the bank for face value. Spending the time to separate these coins could mean the difference between $1.40 face value or their market value of $25 and up as silver is expected to double.
According to a recent Money Morning forecast, silver could reach $50 an ounce by the 2012 presidential election - a gain of 133% from here. As the average American struggles financially to buy gold as the price of gold hovers around $1,350, they find that silver is an affordable way to diversify. as the financial market changes. In the event of a financial crisis it is speculated that junk silver coins can provide a viable alternative to paper currency which is not backed by precious metals.
Regal Assets has been encouraging it's investors who buy gold to also diversify with some form of silver. Silver trade has increased to an all time historical high which can be tagged as the "Silver Rush". Silver coins and bullion can now be purchased by Americans online and delivered for physical delivery in 2 days. Americans can buy junk silver coins by phone at 1-888-700-9887 or buy silver online thru http://www.RegalGoldCoins.com.
# # #