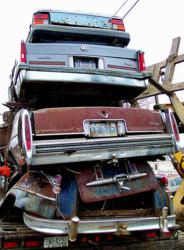 The Auto Pros resource now lists parts that have been checked for accuracy and quality prior to actual sale.
Charlotte, North Carolina (PRWEB) May 29, 2013
Auto parts availability for preowned vehicle owners can vary depending on a number of factors. The type of parts, location in the U.S. and distributors stocking local retailers. The AutoProsUSA.com company created its database of parts online to takeaway the complications that can be found in the parts industry. This company is now using junk yards in Charlotte, NC to fulfill many of the parts orders submitted by customers in North Carolina. These local arrangements with suppliers is expanding the types of parts that can be purchased online. Details about availability can be found online at http://autoprosusa.com/used-auto-parts-charlotte-nc.
While pricing continues to vary in many parts of the country, there is currently no benchmark in the industry for quality levels on the secondary parts market. Sellers have the ability to sell parts for vehicles in any condition. Determining parts quality is one of the issues that some buyers have when locating internal and external parts.
The Auto Pros resource now lists parts that have been checked for accuracy and quality prior to actual sale. These efforts are raising the quality levels of the preowned parts that are now available for customer purchase online.
The published database of parts online is now accessible through the company quote system. This system now links each part in stock with the quote tool published online. The installation of this tool on the AutoProsUSA.com company website took place earlier this year.
Recent updates to the system are making it possible for multiple price quotes to be generated. Instead of one price per part, a series of prices can now be generated from multiple suppliers. Depending on the location of delivery, a buyer could receive up to 50 price quotations from local suppliers competing for a sale. This method is offered as a more cost effective solution for buyers.
A series of price drops were made public starting last month to inform parts buyers of new sale pricing online. The news release at http://www.prweb.com/releases/car-headlights-online/car-headlights-for-sale/prweb10608234.htm introduced the new headlight prices for automobiles.
These prices are now possible due to the expanded supplier agreements reached by the Auto Pros USA company. The national distribution now provided to these companies is helping to lower the price for buyers of a variety of auto parts types online. Shipment incentives like same day and no charge freight are offered by some companies now fulfilling the parts orders that are placed.
About AutoProsUSA.com
The AutoProsUSA.com company is now providing one of the largest resources parts buyers can use on the Internet to locate low pricing. The company database now includes thousands of parts supplied by regional distributors able to offer alternatives to locate retail companies. The prices negotiated online by the AutoProsUSA.com company are designed to create better options for parts buyers in all locations of the country. The quotation system installed online is one effort made to help deliver the fastest pricing currently available. Through database updates and warranty inclusions, this company is helping to expand the sales volume for its partner network.