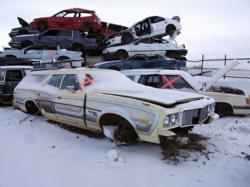 This addition is expected to help parts buyers in Colorado to find parts easier and have these shipped from a trusted retailer.
Colorado Springs, Colorado (PRWEB) May 17, 2013
Auto parts sellers exist online and offline in most parts of the country. Buyers who use these resources can be limited when parts are listed as out of stock. The AutoProsUSA.com company has developed its online database of available auto parts and is now in agreement with junk yards across the country to add these yards to the company database. This company has now added junk yards in Colorado Springs to it available listings online. This addition is expected to help parts buyers in Colorado to find parts easier and have these shipped from a trusted retailer. The current listings that are added can be viewed online at http://autoprosusa.com/used-auto-parts-colorado-springs-co.
Salvage companies and junk yards are two examples of the types of companies that have remained go-to sources for owners of vehicles and mechanics replacing parts. Automotive dealerships are generally licensed by automakers to resell parts to the public. The issuance of these parts can often come with a non-discounted retail list price.
Secondary sellers like the Auto Pros company are now expanding the purchasing options for parts that some buyers cannot find in North America. The newly created distribution network is helping to place hard to locate parts with eager buyers searching for the best junk yard prices online.
Developments in technology has helped this company to redesign its website for customer use. The upgraded database system that is now accessible online showcases the entire company inventory up for sale. This inventory now includes parts from the various junk yard dealers around the country currently providing competitive pricing. These prices can now be pulled from the database online and examined before buyers make a purchase. This easy way of locating prices has virtually eliminated the need for manually processed price quotes.
The new upgrades in technology are due in part to recent changes to the company inventory in 2013. The used auto parts that are offered for sale now include classic and current parts. Vehicle owners and mechanics providing maintenance services can now benefit from the inclusion of more classic parts online. These parts range in age from 10, 15 and 25 years in age to ensure that many vehicles in operational use can continue to be upgraded with better quality parts. These classic parts can now be obtained through the online system or toll-free ordering center.
About AutoProsUSA.com
The AutoProsUSA.com company developed its auto parts database to provide more inventory to buyers without retail resources in parts of the U.S. This company is owned by industry veterans who work daily to provide the best secondary market inventory at the lowest pricing possible. This company now combines its inventory with that of salvage and junk dealers offline. These efforts at the AutoProsUSA.com company have resulted in a boost in the number of buyers relying on this company as a complete used parts supplier. Company policy updates and better incentives for customers have been initiated this year.