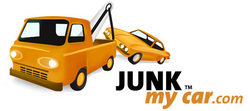 Shelton, CT (PRWEB) July 31, 2009 -
On July 24th the National Highway Traffic Safety Administration (NHTSA) launched a vehicle trade-in incentive program to the public with the goal of replacing 250,000 vehicles for new fuel efficient ones. Junk my Car (http://www.junkmycar.com), a vehicle recycling service in the U.S. and Canada, announced that it will be working with auto dealers participating in the program; offering free salvage management services, facilitating the proper removal and processing of traded-in vehicles.
Rules of the C.A.R.S. program state that trade-in vehicles must not be resold as complete vehicles. All trade-ins must be disabled and scrapped by a disposal facility that is a part of the End of Life Vehicle Solutions program and has been approved by the NHTSA. Due to their extended salvage network, many participating yards are currently working with Junk my Car. The benefits Junk my Car offers to dealers include ensuring they receive the Disposal Facility Certification Form, determining the scrap value that will be passed on to the customer, and receiving payment for each vehicle removed.
"Many car dealerships already have their hands full running their businesses and making new sales. Vehicle removal and recycling is our business and we recognized the benefit our unique service would bring to participating dealers. We manage the entire removal process at no charge from pickup to payment; providing access to an online interface that monitors the removal and generates an instant scrap value for every vehicle." said Rob Bari of Junk my Car.
Dealers were instructed to reach out to disposal facilities in their area to arrange the removal of trade-in vehicles brought in under the C.A.R.S. program. Junk my Car connects participating dealers to certified disposal facilitates in a user friendly way saving dealerships time and effort.
Participating dealerships interested in working with Junk my Car must visit http://www.junkmycar.com/CARS.
About Junk my Car, LLC
Junk my Car is a free junk vehicle removal service that facilitates the removal of cars, trucks, and motorcycles in the United States and Canada. Junk my Car has been providing this unique service for five years and has assisted in the removal and recycling of thousands of vehicles each year.
Junk my Car
4 Corporate Drive Suite 386
Shelton, CT 0648
Toll-Free: 1-877-586-5692
Fax: 1-866-507-9885
http://www.junkmycar.com
Junk my Car is a registered trademark of Junk my Car, LLC.
###