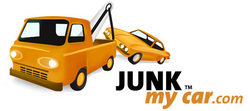 We welcome all communities to take advantage of the services we offer
Seymour, CT (PRWEB) May 28, 2008
Junk my Car, http://www.junkmycar.com, a nationwide vehicle removal service, is proud to announce it's helping to clean up Clallam County, Washington. In April, Junk my Car was contacted by Officer Rich Sill, who's responsible for enforcing county code. Clallam County recently enacted an ordinance which requires the removal of junk vehicles that are at least three years old, extensively damaged and inoperable. Junk my Car told Officer Sill that the company would make its free vehicle removal service available to the county to assist in the removal of an estimated 8,000 junk vehicles.
"We welcome all communities to take advantage of the services we offer," says Tim Yarosh, Junk my Car's Founder. "They are the same services we offer to individuals all over the nation and Canada. Junk vehicles hurt property values and can be unsightly. Junk my Car could literally clean up entire regions. We are hoping Clallam County's efforts will motivate other communities to take an interest in similar junk vehicle cleanup projects."
About Junk my Car, LLC
Junk my Car is a free junk vehicle removal service that facilitates the removal of cars, trucks, motorcycles, motor homes, boats, trailers, and more, all over the U.S. and Canada. Junk my Car has been providing this unique service for over four years and has assisted in the removal and recycling of more than 40,000 vehicles a year. For information about Junk my Car or to learn more about starting a junk vehicle cleanup project in your area, please call 877-586-5692 or visit http://www.junkmycar.com.
Contact:
Robert Bari
Marketing Associate
Junk my Car, LLC
(877) 586-5692, ext. 325
Fax (866) 507-9885
rob@junkmycar.com
###