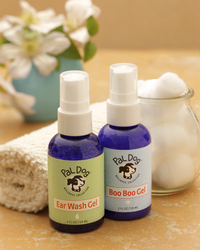 Our company believes that the key to raising healthy pets is catching potential problems early and treating them quickly. We know customers will love our new Treatment Gels and appreciate the high quality, organic ingredients they contain
Pacifica, CA (PRWEB) August 30, 2008
Boo boo anyone? These gels are specifically formulated for safe, effective canine first-aid and preventive healthcare.
Juno's Garden is revolutionizing "everyday" canine health care as we know it with its launch of organic treatment gels. These new gels help prevent infection by treating animals early. Do you have a boo boo? The Pal Dog Boo Boo Gel relieves pain from abrasions, cuts, burns, bug bites and stings and painful broken toenails, all common pet aliments. The easy-to-use gel is cooling to the touch, greaseless and painless to apply. The unique formula contains Arnica and St. John's Wort, both known for soothing, healing and anti-bacterial qualities. It also contains Bach Rescue Remedy® flower essence blend for treating shock and calming animals in pain. Like all of our products, we use only the best organic ingredients available to insure the highest quality for your pet.
Do your customers have itchy ears? The Pal Dog Ear Wash Gel is a gentle new approach to ear cleaning and preventive care. The product is designed to dispense easily (not messy) and contains AloeVera, Witch Hazel, Geranium and Calendula oils for gentle cleaning and odor removal. Our ear wash is perfect for older dogs, those prone to infection, swimmers and all floppy ear breeds.
Looking to cater to new pet parents? Then try our new Healthy Pup System Set. This is a must have for new pet owners. Designed as an on-the-go first aid kit, the set contain(s) both the Pal Dog Boo Boo Gel and the Pal Dog Ear Wash Gel as well as hydrogen peroxide cleaning wipe, gauze, a self-conforming bandage and cotton balls.
"Our company believes that the key to raising healthy pets is catching potential problems early and treating them quickly. We know customers will love our new Treatment Gels and appreciate the high quality, organic ingredients they contain," said Juliann Eskite, Founder of Juno's Garden.
Pal Dog Boo Boo Gel, Pal Dog Ear Wash Gel and Healthy Pup System Set are being launched nationally at SuperZoo and the Christmas Backer Show with distribution in pet specialty stores.
Juno's Garden is located in Pacifica, California and manufactured in Northern California. Juliann Eskite is uncompromising in her belief of quality, earth friendly ingredients as the foundation in her product formulations. Featuring organic herbals and pure, human-grade ingredients, Juno's Garden products are free from SLS, DEA and parabens which can cause skin allergies. Their custom formulas are earth-friendly, biodegradable and safe for outdoor use. They take pride in the fact that their products are manufactured here in the United States.
Juno's Garden promotes solutions to healthy, natural, living between people, their pets and their environment.
For media inquiries, please contact:
Dara Turransky
7 Lucky Dogs Creative
dara@7luckydogs.com
(425) 337-6634
# # #