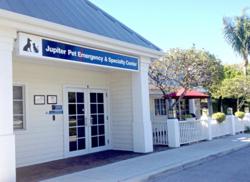 "We are filling a growing need not only for compassionate animal care, but for helping owners through trying circumstances." - Dr. Rachel Thauberger
Jupiter, Fla. (PRWEB) February 07, 2013
Jupiter Pet Emergency & Specialty Center announces the opening of their new after hours emergency care facility and specialty hospital. Seeing a strong need for emergency and specialty animal care in the Jupiter area, Jupiter Pet Emergency & Specialty Center decided to offer their services and their compassionate approach.
Located at 300 Central Boulevard, Suite A, Jupiter Pet Emergency & Specialty Center provides after-hours emergency veterinary care. "Florida can be dangerous for pets at all hours of the day," said Dr. Rachel Thauberger, Emergency veterinarian at Jupiter Pet Emergency & Specialty Center. "We are filling a growing need not only for compassionate animal care, but for helping owners through trying circumstances."
Jupiter Pet Emergency & Specialty Center provides emergency care Monday through Friday from 5 PM to 8 AM, and also 24 hour coverage on weekends and holidays. During regular business hours, they provide veterinary surgical and ophthalmological specialty services.
Overnight monitoring and critical care ensure pets receive the pain control and treatments they need for an optimal recovery following their surgical procedure. With a combination of state of the art equipment- including a hyperbaric oxygen chamber- and a skilled, caring staff, Jupiter Pet Emergency & Specialty Center is the ideal choice for emergency pet care.
The team is comprised of Dr. Rachel Thauberger for emergency and critical care, Dr. Carmen Colitz for ophthalmology specialty services, and Dr. Federico Latimer for specialty surgical services.
Rachel Thauberger - Dr. Thauberger has been providing emergency medicine and surgery in the Jupiter area since 1994. The experience she adds to Jupiter Pet Emergency & Specialty Center ensures that pets and their owners are treated with the compassionate care they deserve.
Carmen Colitz - Board certified veterinary opthamologist, Dr. Colitz brings experience in all facets of ophthalmic medical and surgical procedures, such as glaucoma therapy and surgery, corneal repair, cataract removal and others. As co-creator of OcuGLO Rx, a natural vision supplement for dogs, Dr. Colitz adds tremendous skill to the already exemplary staff.
Federico Latimer – Board certified veterinary surgeon, Dr Latimer has served Martin and Palm Beach counties for the past 6 years in his Stuart office and will now see patients in Jupiter as well. He provides innovative surgeries, including canine medial elbow resurfacing, fluoroscopic fracture repair, hip replacement, and more. With nearly 30 years of veterinary surgical experience, Dr. Latimer provides a wealth of knowledge to provide the best care for pets and owners alike.
About Jupiter Pet Care
Located at 300 South Central Boulevard, Suite A (the former offices of Emergency Pet Care of Jupiter,) Jupiter Pet Emergency & Specialty Center features a completely new staff and new direction from previous occupants. Request an appointment today and experience a new approach to emergency pet care. http://www.jupiterpet.com