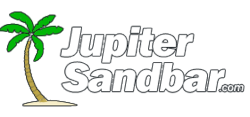 Jupiter, FL (PRWEB) April 10, 2012
Local Jupiter residents have recently launched JupiterSandbar.com, a brand new online community for Jupiter, Florida. The blog offers tourists and locals alike an in-depth look at everything there is to do in and around the peaceful South Florida town. From pictures of Jupiter beach fishing, surf reports and local events to loads of restaurant reviews, Jupiter Sandbar covers it all.
"I have grown up in Jupiter, Florida and I wanted to give back to the community by starting up the Jupiter Sandbar," says owner David Batchelor. "Our goal is to educate people about everything that has to do with Jupiter, whether it be restaurant reviews, bars, nightlife, events or outdoor activities, we will cover it all."
On top of adding personal reviews, ratings and experiences, the staff of JupiterSandbar.com wants the local community to get involved too. Anyone who lives in or visits Jupiter, Florida can send in photos of the experience and it will be posted on Jupiter Sandbar – it's goal is to be one giant online community.
Whether you were born and raised in Jupiter, Florida, are just visiting or are thinking about moving to Jupiter, the Jupiter Sandbar will have tons of information to entertain and delight.
About JupiterSandbar
The focal point of Jupiter Sandbar is to introduce locals and tourists to the wonderful world of Jupiter, Florida. It's inception began in 2012 when a couple of locals decided they wanted to give back to their community by launching an online review blog. While it's still growing, JupiterSandbar.com hopes to become a staple in the Jupiter community for years to come.
For more information, please visit http://www.jupitersandbar.com or call 800.928.2086. You can also email tims(at)ontimetelecom(dot)com for additional information.
###