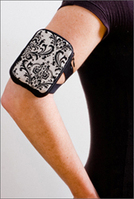 We are very pleased to be officially launching our unique line of armbags
Montreal, Quebec (PRWEB) May 6, 2008
Jupiter Freedom today officially launched its line of hands-free bags for active and social women (see "images and attachement"). The Jupiter Freedom armbag was designed in response to the challenges of carrying essentials (cell phone, MP3 player, ID, keys, money, etc.) without limiting freedom of movement.
The perfect fashion accessory for social and active women aged 25 to 40, Jupiter Freedom armbags can be worn on the arm, or the thigh, and are ideal for activities including: working out, nightclubbing, travelling, rollerblading, going to the beach, taking care of the kids or simply running errands. Jupiter Freedom armbags are light-weight, durable, adaptable for right/left-handed women, shock resistant, breathable and adjustable.
"We are very pleased to be officially launching our unique line of armbags," said Genevieve Liboiron, President, Jupiter Freedom. "This product evolved from personal experience. Whether you are rollerblading or out dancing, carrying a bag containing your cell phone/MP3 player, credit cards and keys can be a constraint. It's a concept I've been thinking about for many years and with the popularization of MP3 players and their sports armbands, I felt that the time was right for Jupiter Freedom. And, the fact that nobody else was making a quality armbag that was both functional and fashionable seemed to validate the business case. I sincerely believe that women will find uses for Jupiter Freedom armbags in their diverse and active lives," Ms. Liboiron added.
For sale online at http://www.jupiterfreedom.com for $59.00 CAD each (including all taxes), Jupiter Freedom armbags are currently available in eight different styles and come with a matching card case, silky travel pouch and accessories (MP3 player case or decorative jewellery).
About Jupiter Freedom
Jupiter Freedom armbags are made in Canada by a socially responsible organization that adheres to fair work principles and standards. In addition to being one-of-a-kind products, Jupiter Freedom armbags are made in limited editions of 100 per style. Based in Montreal, Jupiter Freedom was founded in February 2007. For more information, please visit http://www.jupiterfreedom.com
Contact:
Genevieve Liboiron
President
Jupiter Freedom
http://www.jupiterfreedom.com
514. 937.3285
###