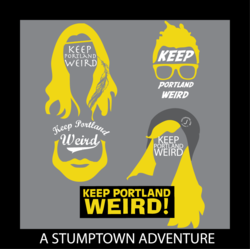 "Portland is a trend-setting market with so much to offer," explains Tod Breslau, co-owner of the Jupiter Hotel. "We want to encourage travelers to visit and if they happen to stay with the Jupiter Hotel when they do, that's fantastic."
Portland, OR (PRWEB) May 25, 2011
The Jupiter Hotel continues a long tradition of staying outside of the box with its newest room package: KEEP PORTLAND WEIRD – A STUMPTOWN ADVENTURE. With national notoriety from the hit IFC show "Portlandia" and the reputation of quirkiness from the long-standing "Keep Portland Weird" movement, the real Portland is a spectacle you have to experience to understand. The Jupiter Hotel's Stumptown Adventure gives guests a chance to walk among the Portland natives and explore Stumptown – in disguise and up close.
As part of the room package, The Jupiter Hotel provides the five things one needs to be a true Portlander; a quirky place to call home base, a map of the bizarre, the strange, and the true City of Roses, the requisite Portland attire and attitude, a strange and curious culinary and oddity tour and an eco-friendly, sustainable and alternative mode of transportation.
Guests sleep at the Jupiter Hotel by night and explore Portland by day. Armed with the iconic Portlandia attire - vintage flannel, stick-on oversized moustaches and thick-framed no-lens glasses - as well as a map of 26 insider's tips on kooky locations, Jupiter Hotel visitors roam the streets of Stumptown in search for hidden treasures that give Portland its weird name.
Highlights of the Stumptown Adventure include a visit to the World's Largest Hat Museum, a short trip down the aisle for vending-machine matrimony at the Church of Elvis, Bloody Mary's at Le Bistro Montage named after Marilyn Manson, bacon-topped maple bars at Voodoo Doughnut and more.
The Jupiter Hotel partners with unique Portland businesses to provide discounts to the odities and adventures that make Portland a rare expereience. Included in this package are discounts to The Freaky-But-True Peculiarium, PDX Pedicab, EastBurn Bar Tap and Grill and Music Millenium, home of the "Keep Portland Weird" movement.
In a city described as "a place where young people go to retire", where the lifestyle of a chicken is protected, where ear guages, fuzzy beards and two story bicycles rule, The Jupiter Hotel's Keep Portland Weird Experience is the most authentic way for interested travelers to get a first-hand look at what makes Portland tick.
The Keep Portland Weird Package Includes:
An Overnight Stay – Stay the night in one of Jupiter Hotel's converted travel lodge rooms, complete with modern furnishings, a queen-sized bed, full wall murals, chalkboard doors and green amenities.
A Map of Portland Locations – Find your way around town with 26 weird locations that bring Portland to life. Tips, tricks and directions help you successfully navigate Stumptown with this custom keepsake map.
Stumptown Adventure BINGO – There are unique qualities of Portland that only an insider can point out – and with the Stumptown Adventure BINGO card, you're sure to spot them all. Make it a competition and be the first of your friends to get BINGO.
Bike rental or On-site Zip Car – Rent a bike from the Jupiter Hotel for the day, a 30 dollar value included in this package. Need faster transportation? ZipCar users recieve a 69 dollar ZipCar credit, good for one month.
Discounts – Partnering with The Peculiarium, PDX Pedicab, EastBurn Restaurant and Bar, Music Millenium and Ground Kontrol, the Jupiter Hotel provides explorers with local discounts as they make their way around town.
Moustache, Glasses and Flannel Shirt Disguise – It's easy to spot a tourist from a mile away, but with the iconic Portland-style moustache, thick-frame glasses and flannel shirt all provided, undercover guests will blend in with the crowd.
Voodoo Doughnut 10 Dollar Gift Certificate – Voodoo Doughnut is the epitome of Portland weirdness with bacon maple bars, jelly-filled voodoo doll doughnuts, and some less-than-PC cream-filled variety of fare. Guests receive a 10 dollar gift certificate to experience Portland's famous doughnuts- after all, the magic is in the hole!
Overnight Parking – The Jupiter Hotel provide on-site parking for a more mobile adventure.
For more information concerning the Keep Portland Weird Room special or the Jupiter Hotel, please feel free to contact Shannon Pratuch at shannon(at)scenemarketinggroup(dot)com or 503-477-7155 (office phone), 503-933-9346 (cell phone).
About The Jupiter Hotel
The Jupiter serves as a home-on-the-road for modern travelers, cultural creatives and business nomads alike looking to indulge in urban life. The 81 modern guestrooms, including the DreamSUITE, connect guests to the vibrancy of Portland at affordable rates– with any number of ways to get around town. A variety of transportation options offer guests "alternative" ways to explore the city – from pedicabs and Electra bicycles on site to car share options and even a charging station for electric cars. Travelers looking for a unique experience in urban hospitality find their destination at the Jupiter, with Wack Salon and Massage Spa on site and rooms equipped with iPod compatible speakers, down comforters, pillow-top queen beds and complimentary Wifi. The adjacent Doug Fir Restaurant and Lounge is open daily from 7 a.m. to 2 a.m. and offers cutting edge musical acts most nights in its underground music venue. The Jupiter Hotel is located at 800 E. Burnside, Portland, OR. For further information visit our online e-media kit or to make a reservation visit http://www.jupiterhotel.com or call 503-230-9200 or 877-800-0004.
###