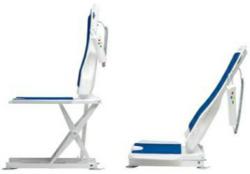 JustHomeMedical.com is in the process of updating the entire bathroom safety section of their site
Ashton, MD (PRWEB) April 17, 2013
As one ages, a slippery tub can become a dangerous obstacle. Fortunately, bathroom safety products make such obstacles easier to navigate.
JustHomeMedical.com is in the process of updating the entire bathroom safety section of their site. A couple weeks ago they relaunched the popular Shower Chairs category. Now, they've launched a brand new Bath Lifts category.
Though both provide users safety and a place to sit, bath lifts function very differently from shower chairs. Shower chairs come in a variety of styles—some have backrests, some have arms, some even double as commodes—but at the end of the day their main purpose is to give users a place to sit so they can shower easily without getting worn out.
Bath lifts on the other hand help users get into and out of a bathtub safely. The user sits on the bath lift which then lowers them into the tub. They can bathe and then raise the seat to safely get back out. Bath lifts work well for independent individuals or caretakers who don't have the strength to lift their client in and out of the tub.
Currently, the relaunched category page has five bath lifts ranging in price from $450 to $700. Bryan Mercer, JustHomeMedical.com's licensed pharmacist, recommends the Bellavita Auto Bath Lifter from Drive. "The Bellavita is the lightest bath lift on the market, making it both easy to handle and portable," said Mercer. "The height adjusts up to 18.8 inches and it's super comfortable—the back and the seat are both padded, and the back can recline to 50 degrees."
Just Home Medical will continue to expand their bathroom safety products selection, with relaunches of categories such as Grab Bars, Transfer Benches, and Raised Toilet Seats coming soon.
About JustHomeMedical.com
Just Home Medical provides a wide range of home medical supplies and equipment to help families maintain a healthy lifestyle. They offer both convenience and selection with thousands of products to choose from that can be delivered right to your home. Their user reviews, product videos, detailed descriptions and variety of search options makes it easy to find the products best suited for you. JustHomeMedical.com is proud to serve the millions of families who seek practical solutions to everyday medical problems and want the best products at the lowest prices.