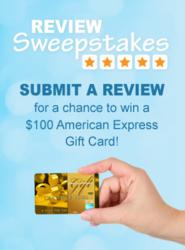 People trust what their peers have to say.
Fulton, MD (PRWEB) May 14, 2013
Online reviews are becoming more and more important to businesses. People are weary of traditional marketing messages, but 72% trust online reviews as much as they would a personal recommendation. Whether they're deciding where to eat or what product to buy, online reviews are now a crucial factor.
This is especially true for ecommerce sites, which are expected to have a wide selection of reviews across all their products. Problem is many customers don't want to take the time to sit down and write a review. But a little incentive can go a long way. That's why Just Home Medical is running a Review Sweepstakes during the month of May.
Anyone who writes a review – positive or negative – about any product on JustHomeMedical.com or one of its sister sites will be entered to win a $100 American Express Gift Card. Visitors can enter up to five times by leaving multiple reviews. They don't have to have purchased the product from JustHomeMedical.com, just know it well enough to leave an honest, accurate review.
JustHomeMedical.com is the latest site by Just Health Shops, owner of several popular medical niche sites including BedwettingStore.com, JustNebulizers.com and JustWalkers.com. Unlike the other sites which each focus on an individual line of products, JustHomeMedical.com is the company's superstore and offers all kinds of home medical supplies. Currently, it carries all the products sold on the smaller sister sites as well as several products not found elsewhere, such as Bathroom Safety products, Bedroom Safety products, and Daily Living Aids.
"People trust what their peers have to say more than what a company says," said JustHomeMedical.com CEO Bryan Mercer. "So, our goal is to get more people saying what they think of our products. Some of our products have close to 1,000 reviews but several still don't have any. The Review Sweepstakes is a step toward changing that."
About JustHomeMedical.com
Just Home Medical provides a wide range of home medical supplies and equipment to help families maintain a healthy lifestyle. They offer both convenience and selection with thousands of products to choose from that can be delivered right to your home. Their user reviews, product videos, detailed descriptions and variety of search options makes it easy to find the products best suited for you. JustHomeMedical.com is proud to serve the millions of families who seek practical solutions to everyday medical problems and want the best products at the lowest prices.