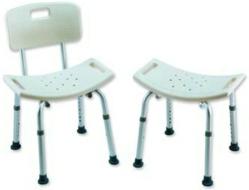 Buyers want the best price and our goal is to deliver that
Fulton, MD (PRWEB) April 02, 2013
It's said that over 75% of household accidents occur in the bathroom. One reason is the number of potentially dangerous objects kept in bathrooms—razors, cleaning chemicals, prescription drugs, etc. But the most dangerous aspect of bathrooms is the constant water which can lead to slip and fall accidents.
This is an especially big concern for the elderly. Seniors with mobility or balance difficulties may not be safe standing for long periods of time to take a shower. But with the help of a shower chair, they can bathe without getting worn out or worrying about slipping and falling in the tub.
Shower chairs come in a variety of sizes and styles to meet any user's needs. Some are simple stools, some have backrests, some have arms, and some even have built in commodes. "Shower chairs are an important and popular category of home medical supply, and one we'd overlooked for a while," said JustHomeMedical.com's Bryan Mercer, a licensed pharmacist for more than 30 years. "As part of the shower chair relaunch we added 36 new shower chairs to our already large selection. Then we looked at the prices of all our chairs to see how much we could lower them. Buyers want the best price and our goal is to deliver that."
Along with the product and price changes, the Just Home Medical top navigation was updated to include a "Bathroom" category. Mercer also plans to add a Tips and Advice page on bathroom safety products, and increase the number of photos for each shower chair so visitors will know exactly what they're getting before they place an order.
About JustHomeMedical.com
Just Home Medical provides a wide range of home medical supplies and equipment to help families maintain a healthy lifestyle. They offer both convenience and selection with thousands of products to choose from that can be delivered right to your home. Their user reviews, product videos, detailed descriptions and variety of search options makes it easy to find the products best suited for you. JustHomeMedical.com is proud to serve the millions of families who seek practical solutions to everyday medical problems and want the best products at the lowest prices.