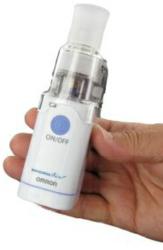 With the new chat feature our expertise is easily available to an even wider range of users
Fulton, MD (PRWEB) April 24, 2013
When one goes to a brick and mortar store and isn't sure what product best suits their needs, they can ask an employee. Until recently, there wasn't a great way to do that online. Of course, customers could always call the toll free number, but many people, especially younger shoppers, would rather type than talk. An actual phone call requires more effort and customers want a quick, easy answer.
Fortunately, with today's technology customers can get just that. JustNebulizers.com has added a Live Chat feature to its site—a very simple, very easy way for visitors to connect with JustNebulizers' knowledgeable staff and get answers to their respiratory aid questions. The live chat feature will be available from 8am to 6pm EST, the same time the call center is open.
"People often wonder which nebulizer we'd recommend, which is best for a child, which is best for their unique situation," explained Bryan Mercer, the company's CEO and licensed pharmacist. "Some customers would call to ask, but many wouldn't. Now, with the new chat feature our expertise is easily available to an even wider range of users."
The chat icon will appear at the bottom right of the screen. Visitors add their name and email and then begin talking with a customer service representative. Throughout the conversation, the rest of the site remains completely functional, meaning the visitor doesn't have to stay on the current page for the chat conversation to continue. At the end of the conversation, the user has the option to email the transcript to themselves and to rate the customer service as "good" or "bad."
"The feedback helps us ensure visitors are having a good experience on our site," said Mercer. "And that's the ultimate goal. We want them to keep coming back, so they need to have a positive experience whenever they visit us."
About JustNebulizers.com
JustNebulizers.com provides respiratory products throughout the United States for people of all ages seeking the very best breathing treatments. JustNebulizers.com understands the importance of choosing the right nebulizer equipment. That is why they provide the largest selection of the best nebulizer systems, parts, accessories, and respiratory care products as well as comprehensive and informative details about all of their products. With a wide assortment of respiratory products at the very best prices, their products fit the needs of both young and old persons who need some breathing assistance.