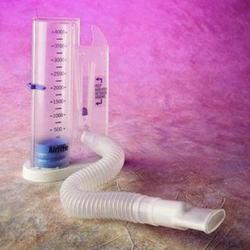 Working around toxic fumes or even living in a highly polluted city can also put you at risk
Ashton, MD (PRWEB) November 20, 2012
COPD is now the 3rd leading cause of death in the United States. By 2030 it's expected to be the 4th leading cause of death worldwide. Yet many people don't what it is. That's why the US COPD Coalition designated November as National COPD Awareness Month. COPD stands for Chronic Obstructive Pulmonary Disease. It restricts airflow to and from the lungs, making breathing difficult. Unlike asthma the disease is progressive meaning it gets worse over time.
"The largest risk factor is smoking," said Bryan Mercer, a pharmacist at JustNebulizers.com with over 30 years of experience. "Working around toxic fumes or even living in a highly polluted city can also put you at risk. In rare cases, genetic conditions such as alpha 1-antitypsin cause COPD."
According to the National Heart Lung and Blood Institute (NHLBI), there are four important tips for managing COPD. First is to take the COPD medication prescribed by one's doctor. These range from antibiotics to bronchodilators and inhaled steroids which can be taken through a nebulizer or inhaler. Many patients prefer nebulizers as they help open restricted airways and ensure proper delivery of all medication. The second tip is enrolling in a pulmonary rehabilitation program. The third is avoiding toxic fumes and pollutants, including those one gets from smoking. Of course, that's easier said than done. But there are now several tools and programs one can use to help overcome the addiction. The fourth and final tip is getting flu shots as directed by one's doctor. COPD makes you more susceptible to illness so it's extra important to avoid getting sick.
"If you find you're constantly short of breath, suffer from chronic coughing or find it difficult to perform daily tasks such as climbing stairs or going out shopping, talk to your healthcare provider," said Mercer. "They can do a breathing test called a spirometry to see if you have COPD. If you don't, great. But if you do, they'll help you treat it so you can start breathing and feeling better."
About JustNebulizers.com
JustNebulizers.com provides respiratory products throughout the United States for people of all ages seeking the very best breathing treatments. JustNebulizers.com understands the importance of choosing the right nebulizer equipment. That is why they provide the largest selection of the best nebulizer systems, parts, accessories, and respiratory care products as well as comprehensive and informative details about all of their products. With a wide assortment of respiratory products at the very best prices, their products fit the needs of both young and old persons who need some breathing assistance.